Discussion Starter
•
#1
•
Let's start this off with a couple disclaimers. One, I know this will start a huge debate (as darkside threads usually do), but I wanted to give my actual experience coming from someone being relatively fairly new at riding. Two, I AM NOT saying that having a car tire is the SOLE reason for my injury. However, I believe it was a contributing factor to what ultimately lead to going slight off the road after a sharp curve and breaking my ankle/leg. So, that being out of the way, here's my story.
October of 2016, I'm in Daytona for Biketoberfest. I'm riding with my girlfriend, who at the time had a Harley Street 500. Part of the activities I wanted to partake in was seeing all the dealerships, small and large, to look at used bikes since it was time to sell/retire my old '87 Honda Shadow 1100 I've had for 5 years for something bigger. One of the bikes I was looking to upgrade to was a Vulcan 2000. Low and behold there was Vulcan 2000 at a smaller dealer, 2008 with low miles. I went home to think about it, sold my bike, and went back the next weekend to pick it up.
One thing I notice about the bike is that it had a car tire on the rear. I've never heard of this before, so during that week before I bought it I did some research. I have an extensive background in working on and racing cars (drag racing). I have rebuilt engines, transmission, and rear ends. I know my way around a tool box and understand the basics and most advance engineering issues relating to vehicles. After doing some research and talking to more experienced riders, I decided to replace the car tire with a motorcycle tire ASAP. I believe car tires are inappropriate or dangerous for the following reasons:
1, The rubber compounds are not the same. The reason motorcycle tires don't last as long as car tires is because they have a more aggressive compound, such as drag radials in the car tire world. And, motorcycle tires actually have a more "sticky" compound at the edges of the tire to help when cornering. Yes, you won't notice a difference in the grip of the tire with about 99% of the riding most people do on cruisers. But that 1% of the time you will need that extra grip can mean the difference in laying the bike down and sliding into traffic or a pole/tree, or making the turn and getting out unscathed.
2, Contact patch. Yes, I know this has been discussed many times, with the contact patch of the tire actually being "larger" than a motorcycle's. This is true, when you're going straight. However, when turning, the tire actually lifts up off the ground and you're losing 50% of the original contact patch. The patch may be the same size as a motorcycle tire's when turning, but when you factor in the tread compound, it's a much more dangerous situation. And, no one seems to discuss the shape of the contact patch. A motorcycle tire has a more oval contact patch, while a car tire will be wide and short. The contact patch of the motorcycle tire is much more favorable to have when exerting the force tires have when turning on a motorcycle.
3, Initial lean/turns. After the test drive, and riding the bike after purchase, I notice it took much more effort to lean into turns. I understand once you're used to it, it's not a big issue, but what if you need to make an evasive maneuver? A car tire will not be as nimble, as quickly, as a motorcycle tire.
So fast forward to November 27, 2016. My g/f and I want to go for a ride locally and get something to eat. We chose to take a local road in Citrus County, Ozello Road. The road is very scenic, runs out towards the Gulf of Mexico, and is infamous for its sharp curves (many sporty cars and bikes ride this road daily for that purpose). I'm on a new to me bike, a bike much larger than my previous one (although I did have plenty of experience riding larger bikes like Road Kings and a VTX 1800), and on a sharp curved road I'm not familiar with. About 5 miles into the 7 mile road my confidence is really up and I'm getting a real good feel for the bike even with a car tire on it. I start coming up to a very sharp left curve, probably 110-130 degrees. I start slowing down before leaning the bike, begin the turn, and look at the road ahead. As I'm halfway through the turn I realize that I really didn't start the lean soon enough and start drifting towards the right edge of road. And, as a noob would do, I slightly panicked and looked at the side of the road for a moment instead of where I needed to go. As the bike started to barely drift off the road and straightened it up, knowing that it would almost instantly slide out from under me if I did not. Only being a few feet off the road I tried turning slightly to get her back on the road. While doing so I could feel the back end starting to slide out. So, I again panicked and did the 'ole "dirt bike" manuever by putting down my left foot and giving it some gas to straighten it out. It worked, I kept the bike vertical, and got her back on the road. However, when I put my foot down, somewhere it popped up and either the force of the bike changing directions or my foot getting caught up under the bike for a spit second, snapped my lower fibula.
At first, I thought I just may have sprained it. But a trip to the ER showed the complete break/spiral fracture.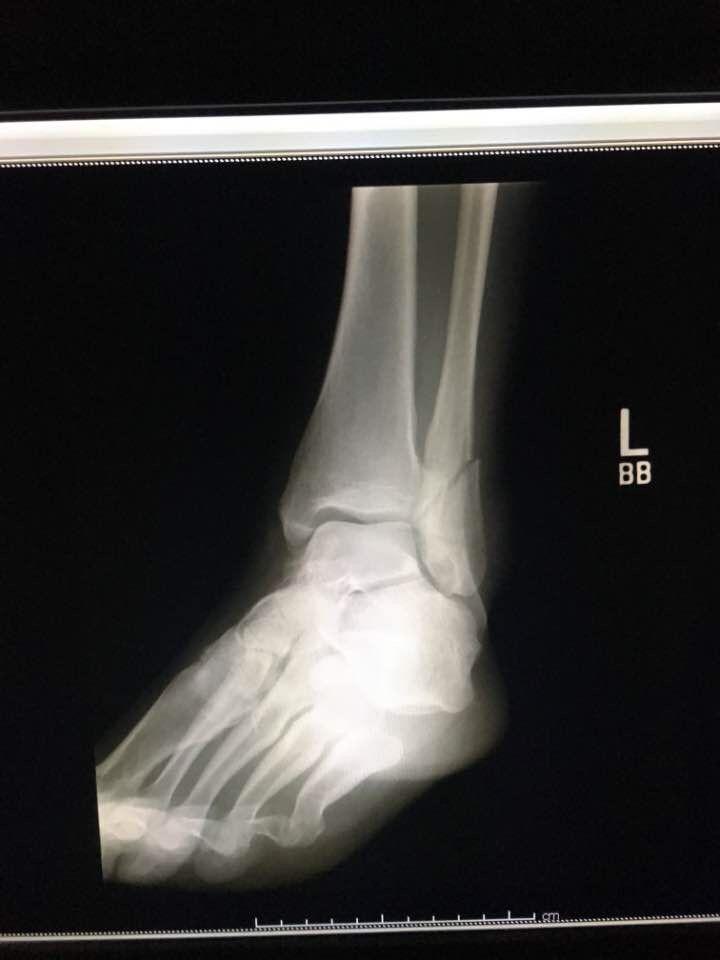 The break required surgery including a plate, screws, and a floating screw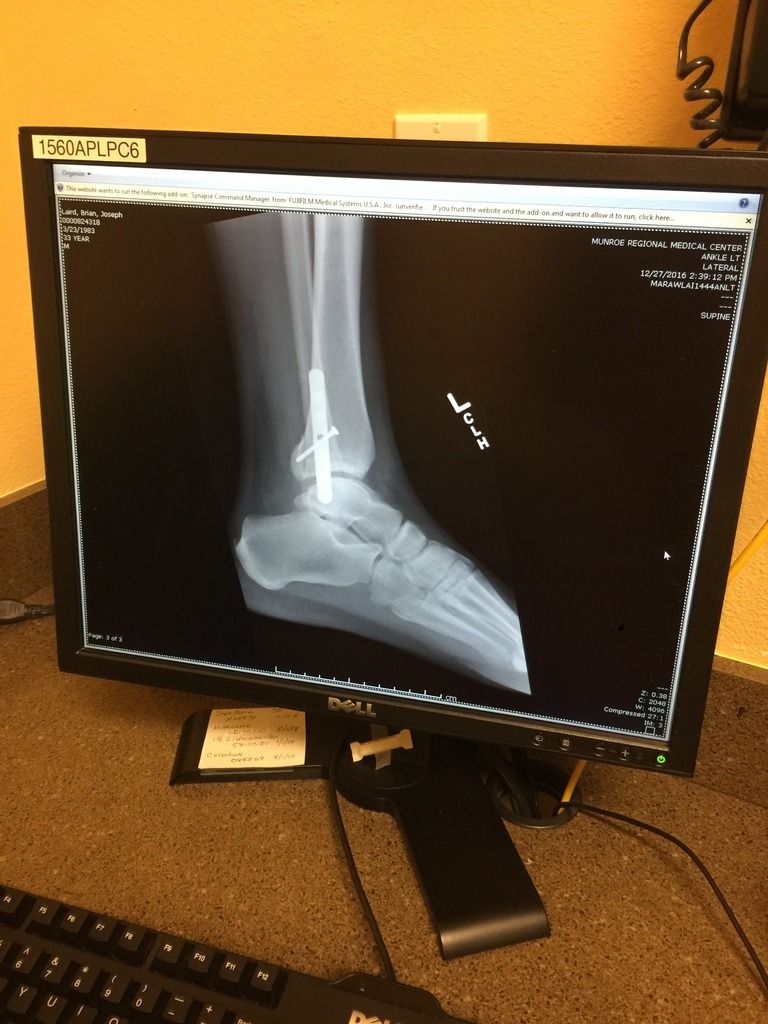 As stated above, is it my belief that having a car tire was the SOLE reason this happened? NO. However, if I had a motorcycle tire on there, I'm sure I would have made it through that turn no problem. I ALSO believe that if I didn't come in too confidently/fast or kept looking ahead at the road ahead I would have also made the turn too.
Food for thought everyone.