Discussion Starter
•
#1
•
"Feels like I'm always stuck in second gear," ok not really, but since we're all "FRIENDS", I thought I would share a recent mod.
Those in the know are aware that I wrote a "How To" on installing a diode kit for LED lighting, inside your Vulcan's instrument cluster. For more on that, go here:
http://www.vulcanforums.com/forums/showthread.php?t=174329
While disassembling the speedo cluster for the diode mod, it was hard not to notice how empty the case is. The electronics inside take up little room, which left me with an idea and room to play...
I have wanted to have a Tach on my bike, but it's an afterthought on the 900, and looks out of place to me. So, while I decide if that's something I really want to do, I figured a gear indicator might be the next best thing.
The Gear Indicator
Due to its size, accuracy, and ease of installation, I decided to use the HealTech Gi Pro. Its a completely sealed unit that measures about 3/4" X 1" and it has a large colored LED display. The unit works right out of the box, no setup required. Simply plug it into the factory Kawasaki diagnostic port, secure the cable and ride!
The Mod
The Gi Pro comes with double sided tape and is designed to be attached anywhere on your bike you can fit it. Nice, but that just wasn't good enough for me. I wanted a clean factory look so, I knew what had to be done!
Mock up: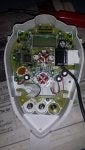 Mounted location: Sizing up the window on the illumination plate.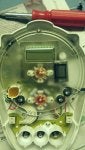 Alignment to Speedo face: Ended up falling between 110 and 130mph. I doubt I'll ever catch the needle over there!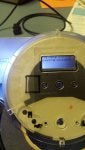 Severed: The Gi Pro's harness had to be cut to pass through the weather grommet and maintain the serviceability of the instrument panel. A Delphi weatherpak harness serves as the panel's disconnect.
Test Fit of the assembly: Looks good so far! The needles have to be set with the instrument panel connected to the bike, with the ignition on, to reset the needles to their "zero" locations.