Discussion Starter
•
#1
•
Hey guys,
first post here, figured i`d start by showing off my bobber project so far.
When I bought, 2006 VN900 classic.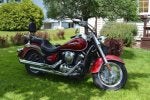 The bike needed new tires so i figured i`d go for a nice white-wall look. Metzeller 888 WWW (wide white wall) on stock rim.
Then installed my Bobber kit. bullet signal lights, side plate, 1930 ford light, 32" drag bar and springer seat with short fender.
I had the OEM pipe wrapped for a while with baffles drilled out, surprisingly nice throaty sounds for debaffled stock exhaust. I recommend the mod. Eventually got tired and ordered a set of Roadburners 2.5" in black bought new crush gasket and I barely get any popping. sometimes smells like gas tho so i'm assuming its running rich and a BAK would def help. Mirrors were purchased on ebay for 25$ free shipping.
And I recently discovered plasti-dip and figured why not get a budget alternative to powder coating? Did my air box and the lower fork.
Didn't even removed the tire or the front caliper. Covered the tire with a large garbage bag and took my time taping off the areas. Did about 7 light Coat. Turned out great in my opinion and is durable.
Enjoy guys, ill post more pic as I'm making my own saddle bag out of a messenger canvas bag I bought online, may even make a How to post about it?
Give me your thoughts!
Also, Arlen Ness Big sucker OR Baron Big Air Kit ??
Thanks guys, ride safe.