Discussion Starter
·
#1
·
Well I to took Blue out for a short spin a few weeks ago and it felt really stiff turning so I decided to go and check the steering head bearings, here is what I found and decided it was time to replace them. I went with the tapered roller bearing I seen a lot of folks switching to. The top bearings looked OK but why leave them if I am switching out the bottom ones.
,
,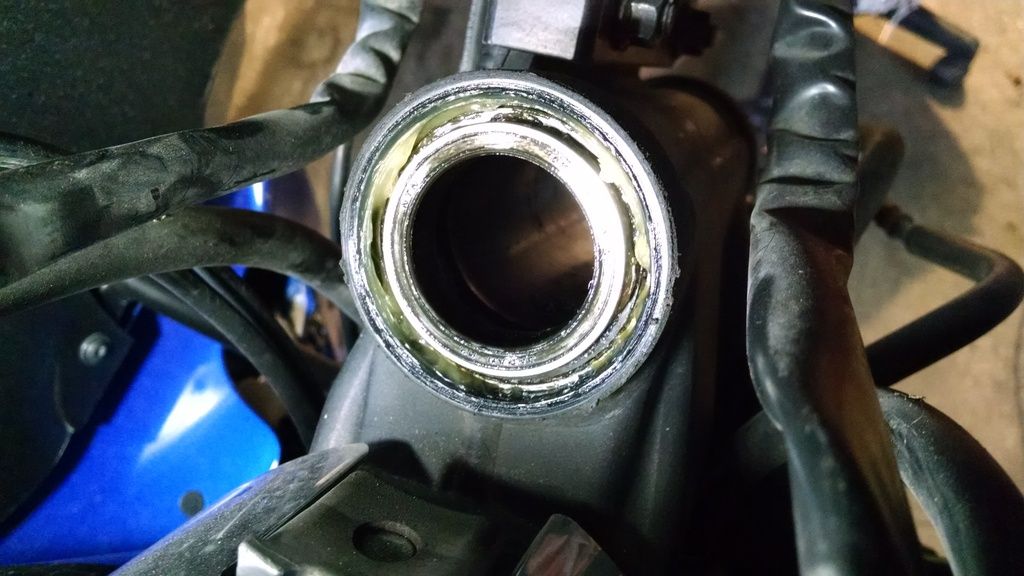 I did it without taking everything off the front end, put new bearing on and put it all back together, then realized I made a bad opps in doing so and haven't corrected it yet still sitting jacked up in the garage, I got one brake line going over the stem and one going under and need to take the front end back off and reroute the brake lines so they are both going over the stem.
Next project flush cooling system... When it finally warms up here in Ohio..Also got to looking at the underside of the front fender and see chips and specks of rust and was thinking about getting some of the Rhino liner for truck beds and possibly spraying that on the front and back fenders to help with road debris chips, so if anyone has any thoughts to that I would love some feedback.