Discussion Starter
•
#1
•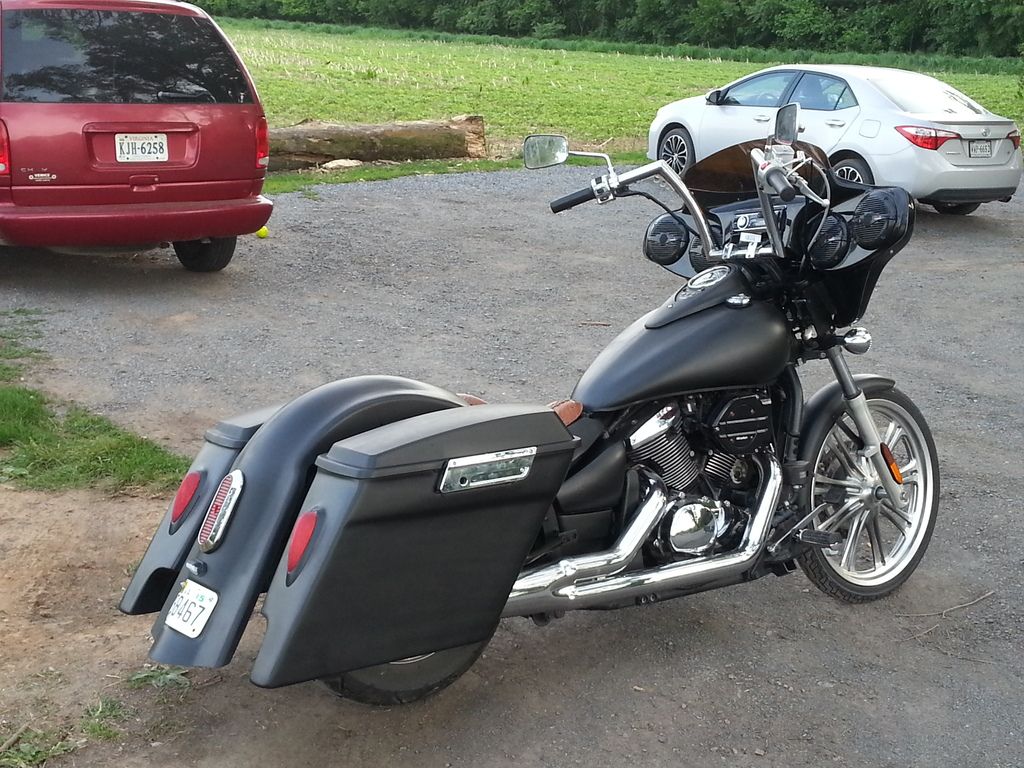 Congrats Doom!
You can congratulate Doom
IN THIS THREAD
So I figured since my bagger project was "mostly" completed, I would throw my hat in the ring for BOTM. Here's the stats:
Year: 2008
Model: Vulcan 900 Custom
Engine size: 900
Pipes: Hard-Krome Sideburners
Seat: La Rosa Solo Shedron Alligator
Wheels: Stock 900 Custom front and rear
Accessories: Harley Fairing with stereo and 4 5-1/4" speakers, Harley FL hardbags extended 6", bagger fender, LED Signal and brake light conversion, Kuryakyn Hypercharger intake, PowerCommander V fuel management system, 6" up and 1" pullback risers with 12" Ape hangers, Barnett extended cables, Solo seat and more that I probably forgot.
And the story:
I've always liked the bagger style, but for many reasons didn't want to buy a Harley. I've always loved my Vulcans (I've had 3 Vulcans so far: a 750, 800 and now the 900 Custom) and love the reliability of them. I found this bike on Craigslist for cheap and couldn't pass it up. I rode it stock (with the exception of the Britt style pipes, Hypercharger and PC-V that was on it when I bought it) for a year. Then, I couldn't decide if I wanted to make her a bobber or a bagger and ended up going the bagger route. I "stole" some ideas from Bald Marine's build after seeing his build thread, but did a few things different.
The Build:
I made a custom seat pan out of fiberglass and molded it into the bagger fender. The fender is an overlay for a Road Star but fit between the fender struts perfectly. The seat pan was made to fit the La Rosa seat, which also uses the stock seat latch for added security. Once I had the fender and seat pan molded together, I started on the bags. They were standard length ABS plastic bags that I got cheap from Amazon. I made some extensions using some aftermarket 4" extensions and added 2" to those to get the 6" extension that I needed to match the fender (which is why they have exhaust cutouts on both sides). After body work to smooth everything out I then made a mold of the bags and popped "new" bags from the molds. The saddlebag brackets are from a Softail that I modified to work on my 900. I then found a great deal on the fairing and once it came in, had to modify the stereo opening for my radio to fit. I ended up using a car stereo mounting kit for a Buick that I had lying around which cleaned up the install and gave me a nifty storage nook under the stereo I then made up some brackets that attached to some stock fork tube brackets and the fairing was done. I made up a custom wiring harness for the rear section of the bike, complete with quick disconnect connectors that plug into the stock connectors under the seat. I also made up a wiring harness for the stereo complete with inline fuse for added security and switched wiring. I installed Custom Chrome LED's in the front turn signals, and used Mutazu LED tear drop lights on the bags for running lights and turn signals, and converted the brake light to LED as well, and then installed a new flasher relay. After all of this was done, I dismantled my dash panel and installed the diode kit to eliminate the crossover glitch and reinstalled the dash panel on the tank. I installed some heat reflective mat under the exhaust side saddlebag (it reflects up to 2000 degrees F radiant heat) to keep it safe from the exhaust heat. After some body work and primer, I threw on a couple coats of plasti dip to bring everything to the same color. Unfortunately I ran out of plasti dip and she's a few coats shy of finished, but the general idea is there. All work was done by me with the most basic of basic tools. The project started out being done under the canopy of an empty bank building's drive thru next door to my apartment and after the cops ran me off I moved to my dad's car wash and used one of the non working bays as a make-shift garage. Very few mods were direct bolt-ons. The direct bolt-ons were the front LED clusters, risers and bars, and extended cables. The rest were modded to fit, molded in, or fabricated. This was a learning experience from the beginning, having never done fiberglass work before, or body work. I have fabricated some things in the past so that helped with the creativity. It took a bit longer than I had hoped due to my back problems, but all things considered, a little over a month working on it is pretty fast. This is going to be an ongoing project. I already have plans to make up some side panels, as well as filler panels to close the gaps between the fender and the bags. She is truly a Frankenstein build. Parts intended for cars, 4 different motorcycles, and one off parts. I couldn't be happier with the results so far especially since she's the poster child for budget build. Total cost of the project including purchase price of the bike is just under $5,000.