Discussion Starter
•
#1
•
Congrats Wasatch!
>>>PM SENT<<<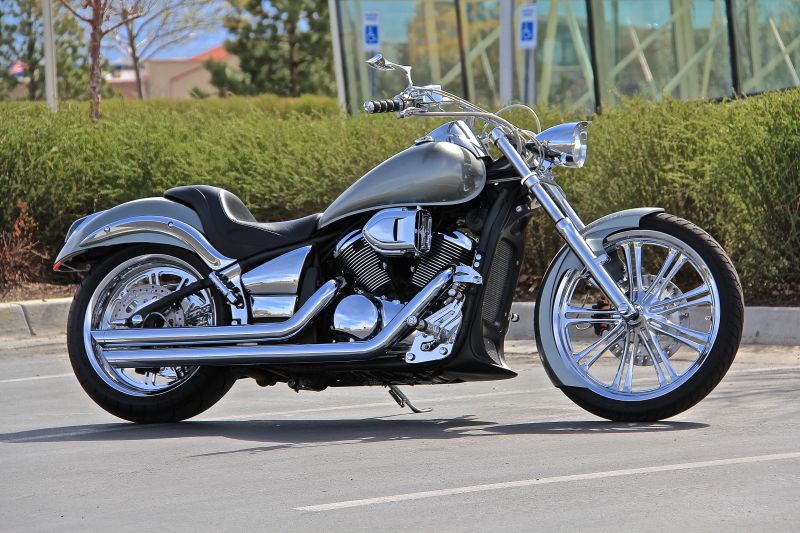 Year: 2008
Model: VN900C
Eng size: 900
Pipes: Cobra Slashdowns
Seat: Saddlemen Solo
Wheels: Front, chromed stock. Rear, chromed Sumo-X Mimic 18 x 5.5.
Accessories: A lot, gonna have to read below.
And the story:
Last year in the early part of June I needed another project to work on, and since it had been a decade since I sold my VN800A, I decided another Vulcan was needed to satisfy that old "wrenching" appetite. I decided to budget about $10,000 for the project.
After scouring local classifieds here along the Wasatch Front in Utah, I found a candidate. A 2008 Vulcan 900 Custom, with an asking price of $3000. In the pictures the bike sported a broken windscreen, rotten leather saddlebags, a rusted luggage rack out back, and a huge two-up seat. While the current dress of the bike around purchase time wasn't my style, I knew that it would not last.
I contacted the seller and demanded a test ride. Using our car keys and my wife as collateral, I rode the bike for a bit and found it was going to really need some work. $3000 was a fair price, so off I went with a salvaged title in hand. The bike had been stolen and recovered prior, and laid down on both sides. The damage was evident with badly scored footpegs out of alignment, damaged OEM exhaust, and bent handle bars. Also the wheels were wobbling badly, though not bad enough to ride during the the summer season of 2014.
The very first thing I did on the way home was get a safety inspection, then a visit to the DMV for registration. A call to my insurance agent was made, and the bike was legit to ride. I also stopped at South Valley Motorsports in Sandy and bought a brand new set of Cobra Slashdowns. I installed them the next day and found the popping issue due to fuel mixture issues. I also tossed out the old windscreen, saddle bags, and luggage rack on the rear. I good friend of mine owns a 2007 Classic that he has bobbed, so I obtained some of his parts to get the project going, such as a custom solo seat he had made at one point.