·
END OF YEAR BIKE 2018 Winner
Discussion Starter
•
#1
•
There is a new Motorcycle clothing trend that's out there and I was wondering how the community feels about it.
This is a good article concerning the trend:
Motorcycle.com's Motorcycle Riding Jeans Buyer's Guide
The reason for the trend IMHO is so that you don't look like a biker when you aren't actually on your bike. Not a bad idea when you think about it, however, I like looking like a biker...even when I'm not in the saddle.
I personally find that when I am wearing my leather and I enter an establishment I get the 'looks'. They are not bad looks at all. In fact I find that I get a lot of positive contacts/conversations when obviously recognized as a biker. In fact, I regularly have women flirt with me when dressed in my riding apparel. Some of them are over the top obvious. So, for me it is not a negative when dressed in riding apparel.
I do however, understand if I am going to work, picnic or non-biker event I don't always necessarily want to look like I'm riding.
On the other hand, I don't want to look dorky in a pair of jeans that look like maybe I dropped a load in my pants or I have medical attachments. (No offense intended to anyone that has such devices)
The pics in the article obviously are taken to make them look good. This pic is a good example:
:surprise: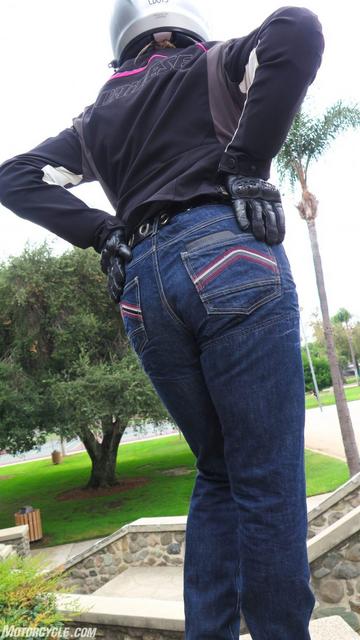 Just wondering how the community felt about this new trend.