Discussion Starter
•
#1
•
After a vote and a runoff vote, we have a winner! Congrats CustomSE!
>>>PM SENT<<<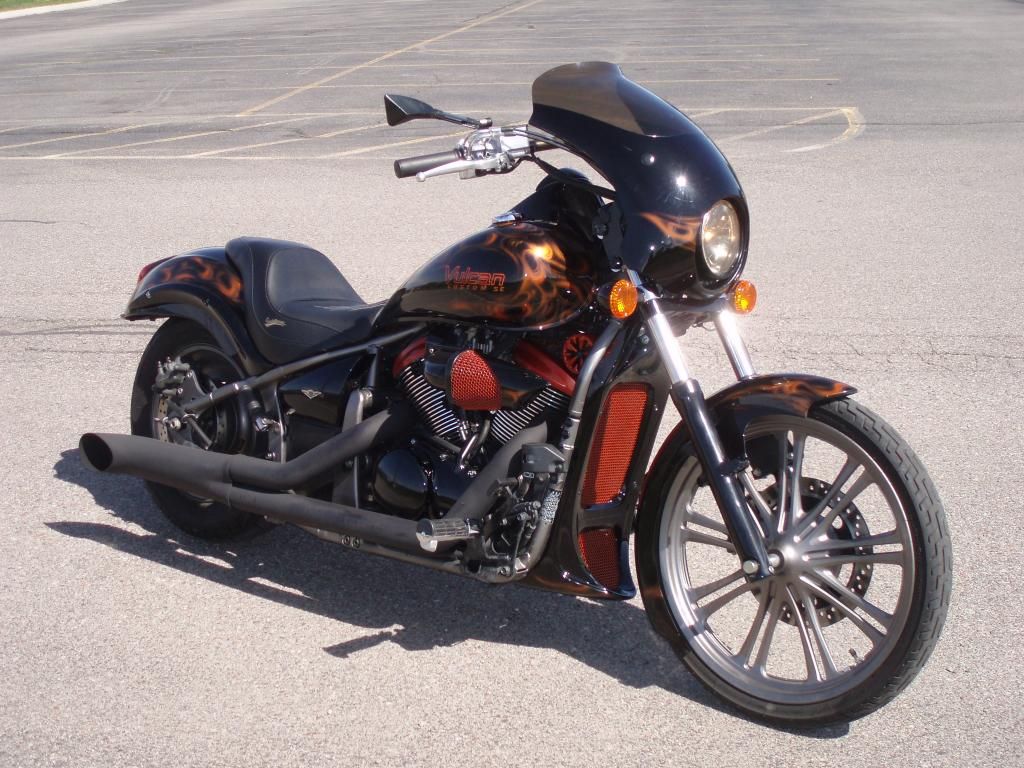 2009 Vulcan 9000 Custom Special Edition
Modifications
Performance
•Cobra FI2000R Power Pro Tuner
•Low and Mean Force Performance Air Intake
•Barons Front and Rear Overdrive/Power Pulleys
Pipes
•Flat Black Side Burner Hard Krome 2 to 1 Exhaust with 4 inch diameter turnout.
Seat
•Saddleman Renegade Deluxe Solo Seat with Flame Stitching.
Wheels
•Stock Dark Custom Special Edition.
Suspension
•LA Choppers Adjustable Rear Lowering Kit – 2 Inch Drop.
Accessories & Appearance Modifications
•Custom Paint by DB's Cycles – Black with Burnt Orange Pearl Real Flames
•Memphis Shades Fairing with Black Trigger-Lock Mounting Kit
•Radiantz Custom Smoked Flexible LED Rear Turn Signal and Brake Light Array
•Black Side Mounted Vertical License Plate with LED Lighting
•Handlebar Mounted Billet Dial Clock and Thermometer
•La Rosa Black Leather Solo Left Mount Saddle Bag
•Low and Mean Radiator Shroud and Chin Spoiler with Honeycomb Screen
•Low and Mean Honeycomb Screen and Dagger Air Filter Cover
•Low and Mean Reaper Front Fender
•Low and Mean Custom Skull Speedo Face
•Custom Coil Cover with Honeycomb Screen
•Black Blade Rear View Mirrors
•Black Vulcan Oil Reservoir Cover and Oil Cap
•Custom Burnt Orange Horn Cover
•Black Speedo Visor
•Flat Black Kickstand
And the Story: I'm a late bloomer and didn't start riding until last year at age 52. Being a new Rider, the Vulcan 900 was going to be my "Starter Bike" with the hope of maybe buying a HD someday. I bought the Bike last spring from a guy who had it in his garage. He bought the Bike new. The Bike had 523 miles on it when he dropped it on its left side. He had knee problems so he parked the Bike in his garage and bought himself a Can-Am Spyder instead. I bought the Bike Spring 2013 and put 4,000 miles on it last summer. I fell in love with it and the bike transitioned from my "Started Bike" to a "Keeper", no longer wanting a HD. With my Bike parked in the garage during the Rocky Mountain Winter, I began tinkering and caught a serious case of the "Mod Bug". I got a lot of information and ideas from the Kawasaki Vulcan Forum to help me with designing and transforming my Bike into what it is today.