Discussion Starter
•
#1
•
Your June BOTM winner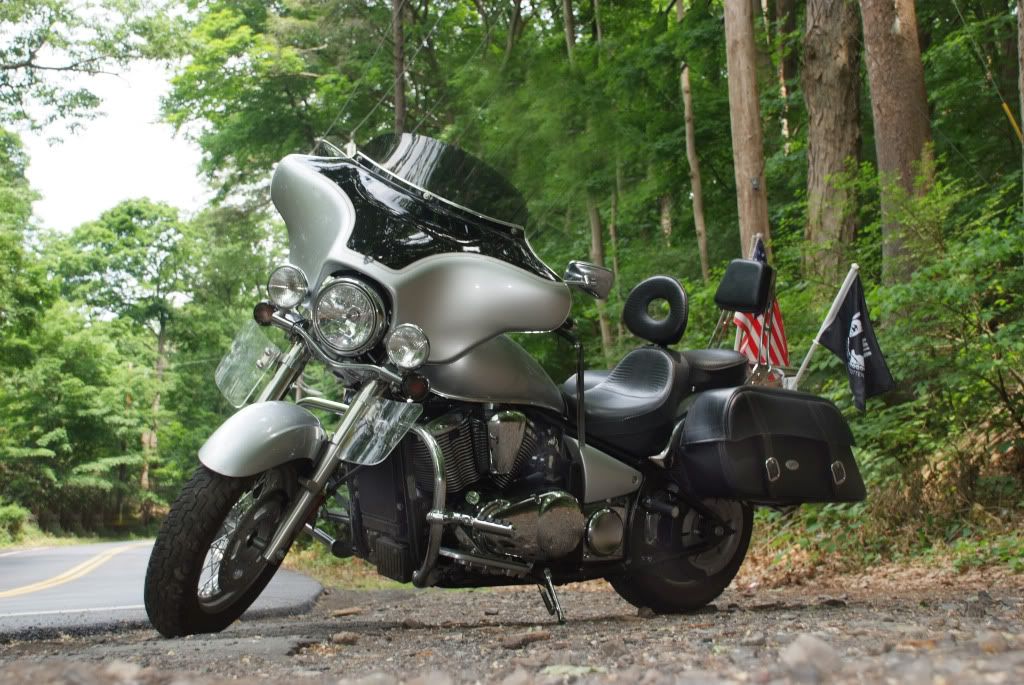 Year: 2006
Model: VN 900 Classic
Pipes: OEM, Debaffled
Seat: Corbin Dual Tour in Faux Baby Gator skin with matching Oval Back
Wheels: OEM
Accessories:
•2003 HD FLHX fairing trimmed to fit the Vulcan. Ironically the Vulcan being "only a 900" was bigger.
•Memphis Shades "Lowers"
•Custom World Auxillary Lights
•Clear Alternatives Smoked Lens Covers
•"Free Spirit" M/C Cover
•Kuryakyn ISO Flame Grips w/Throttle Boss
•Big Bike Leather Lever Wraps with Fringe
•MC Enterprises Engine Guard
•Fiamm Freeway Blaster Horn
•Kuryakyn ISO Dually Highway Pegs w/offsets
•Saddlemen Extra Extra Jumbo Drifter Slant Bags
•Willie & Max Maltese Cross Fork Bag
•Hard Krome Sissy Bar
•Hard Krome Luggage Rack
•Flags
As for the story, I always loved the look of the HD Fat boy as a kid. Big tires, triple light across the front, it was always just sooo cool, but bikes are too dangerous. I would NEVER own one....
Well fast forward 20 some-odd years, married, kids, etc. I can deny my inner desire for a bike no longer, so I drop the bike bomb and the other half was less than happy. I showed her that I had done a lot of research and showed her the MSF website. The one condition was "Only if I took and aced the MSF class". With great trepidation from the mrs., it was a done deal.
I scouted HD & the metric brands online and I saw the Vulcan. It was an 06 leftover that he could work with me on. I took the MSF class, got my lisense and bought the Vulcan. Took me 15 minutes after starting her to pull out of the parking lot. The 900 was an enormous difference from the little 125 suzuki at the class, and this dealer was below the level of the road, so I had rollback issues to worry about, plus it was on a busy highway, with no shoulder! I thought "WTF did I get myself into?" I took a deep gulp of air, released the clutch smoothly, pulled onto the highway and said "Oh yeah.........."
It's been all over ever since.