We had the oppurtunity to have a forum member's 2011 Vaquero here in my shop for lotsa goodies.
Before anything was done we dynoed his skoot to document his stock power and torque, then fitted a set of Cobra Tri-Ovals with follow up dyno runs. This skoot stock had quite a bit of exhaust popping on decel, and with the pair system hose blocked off and the Cobra's the popping was worse. We removed the right side air box to gain access to the intake area which allowed me to do a intake system vacuum leak check. The fluid we use was immediately sucked in on the left side of the t/b-intake manifold junction, so i knew at that point alot of the exhaust popping was due to intake vacuum leaks. The Cobra's gained power and torque throught the powerband.
DYNO CHART SHOWING STOCK VS COBRA TRI OVALS...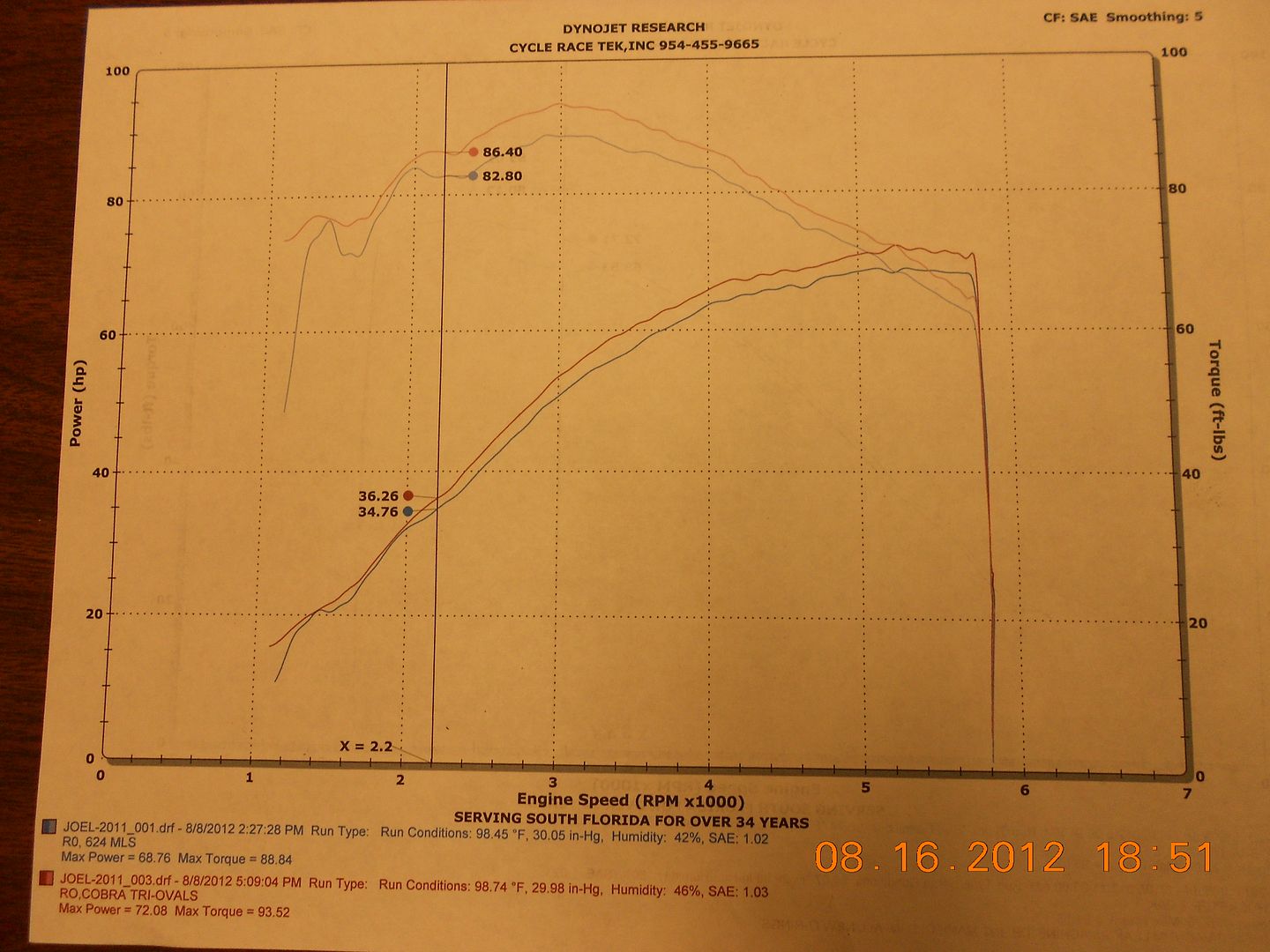 The next step was to perform the 600 mile service, gettin rid of the factory coolant, tightening all the fasteners (377!!) , flushing and bleeding of the hydaulics, general lube, etc.
At the same time we removed the t/bodies and intake manifold for inspection. His manifold was the worst I have seen, it was severly warped. I machined the t/b's and the manifold and reassembled it all with new o-rings and 1211 sealant.
We also at this time installed a chuckster BAK and then the skoot was back on the dyno for follow up runs to document the affect of the BAK...
DYNO CHART SHOWING COBRA EXHAUST TO CHUCKSTER BAK...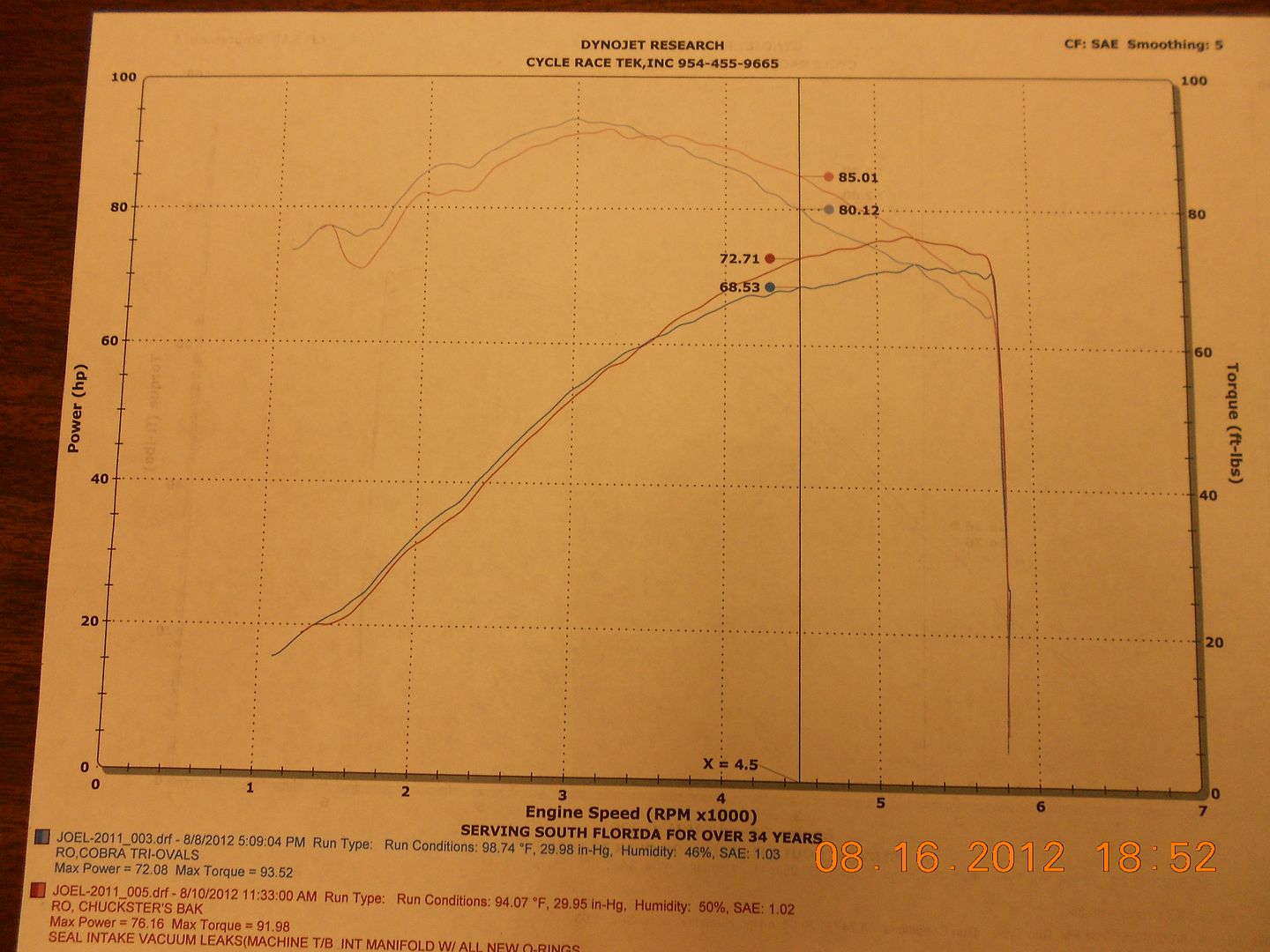 The power loss up to 3500 rpm was due to the air/fuel ratio going pretty darn rich, which was gonna have to be rectified with the mapping and ignition timing changes utilizing the PCV. We then installed the PCV along with a set of Avon grips with my mod.
DYNO CHART SHOWING H.P. GAINS FROM CUSTOM MAPPING...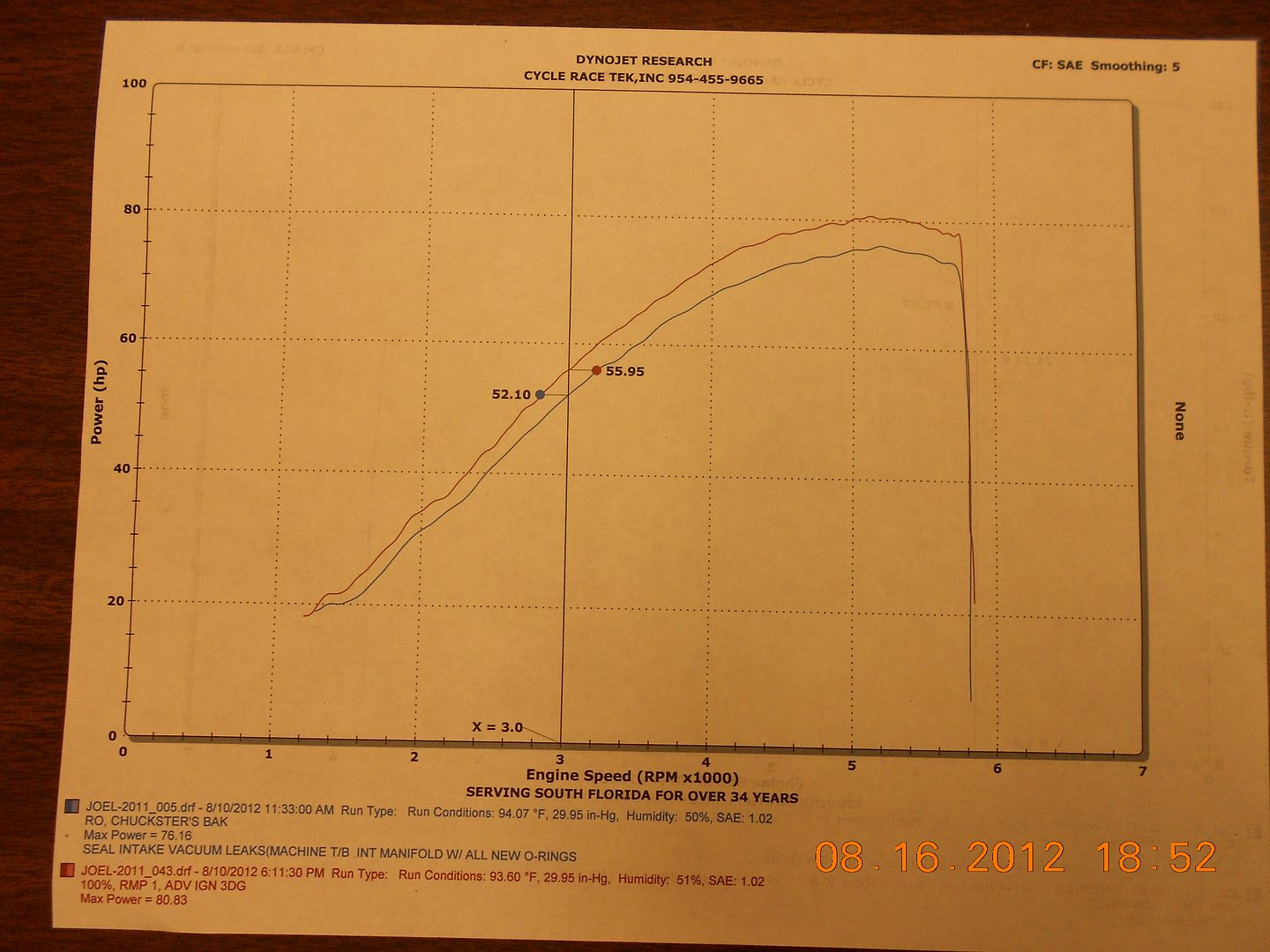 DYNO CHART SHOWING TORQUE GAINS FROM THE MAPPING...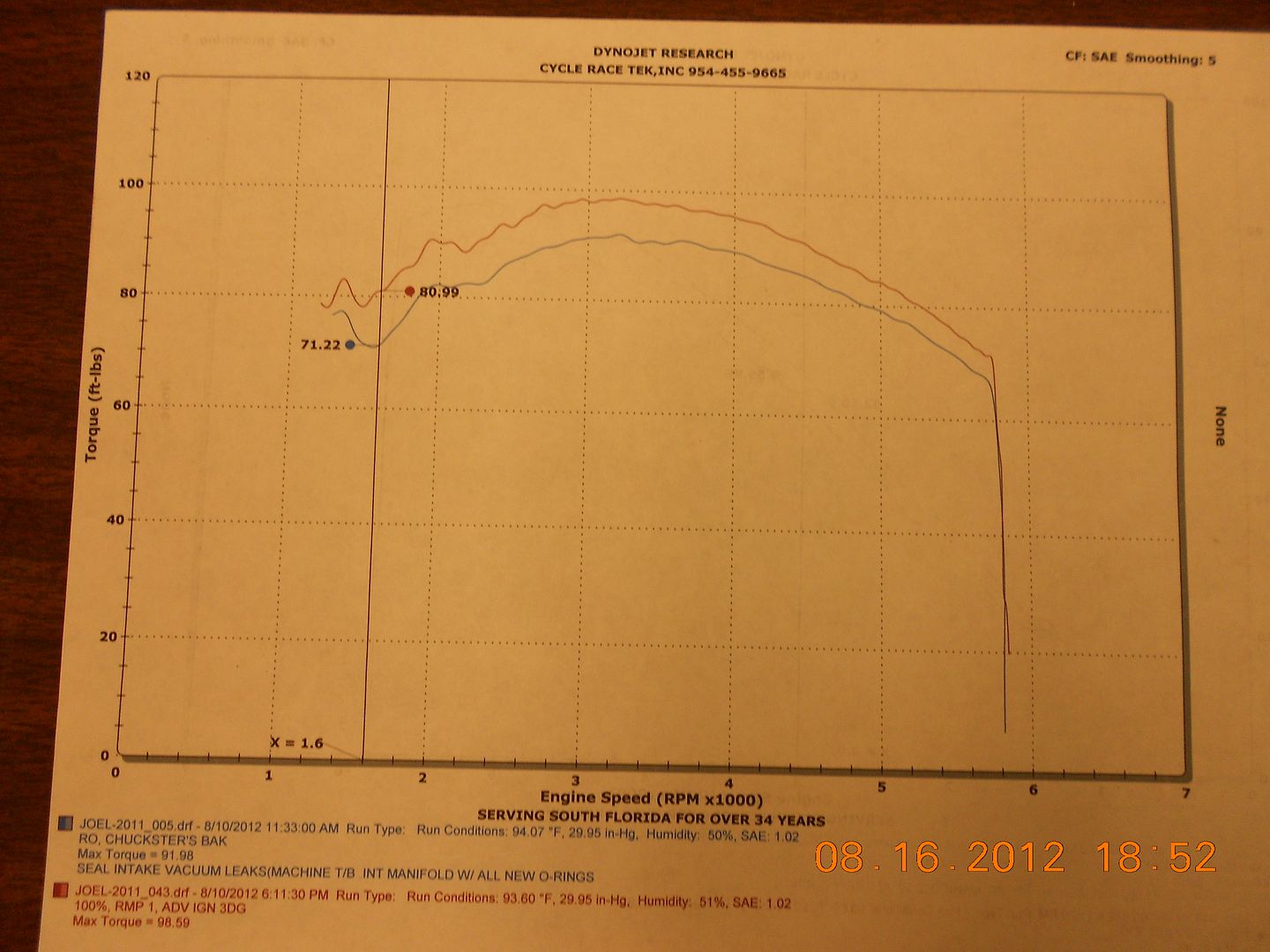 DYNO GRAPH SHOWING STOCK AND FINAL H.P. FIGURES...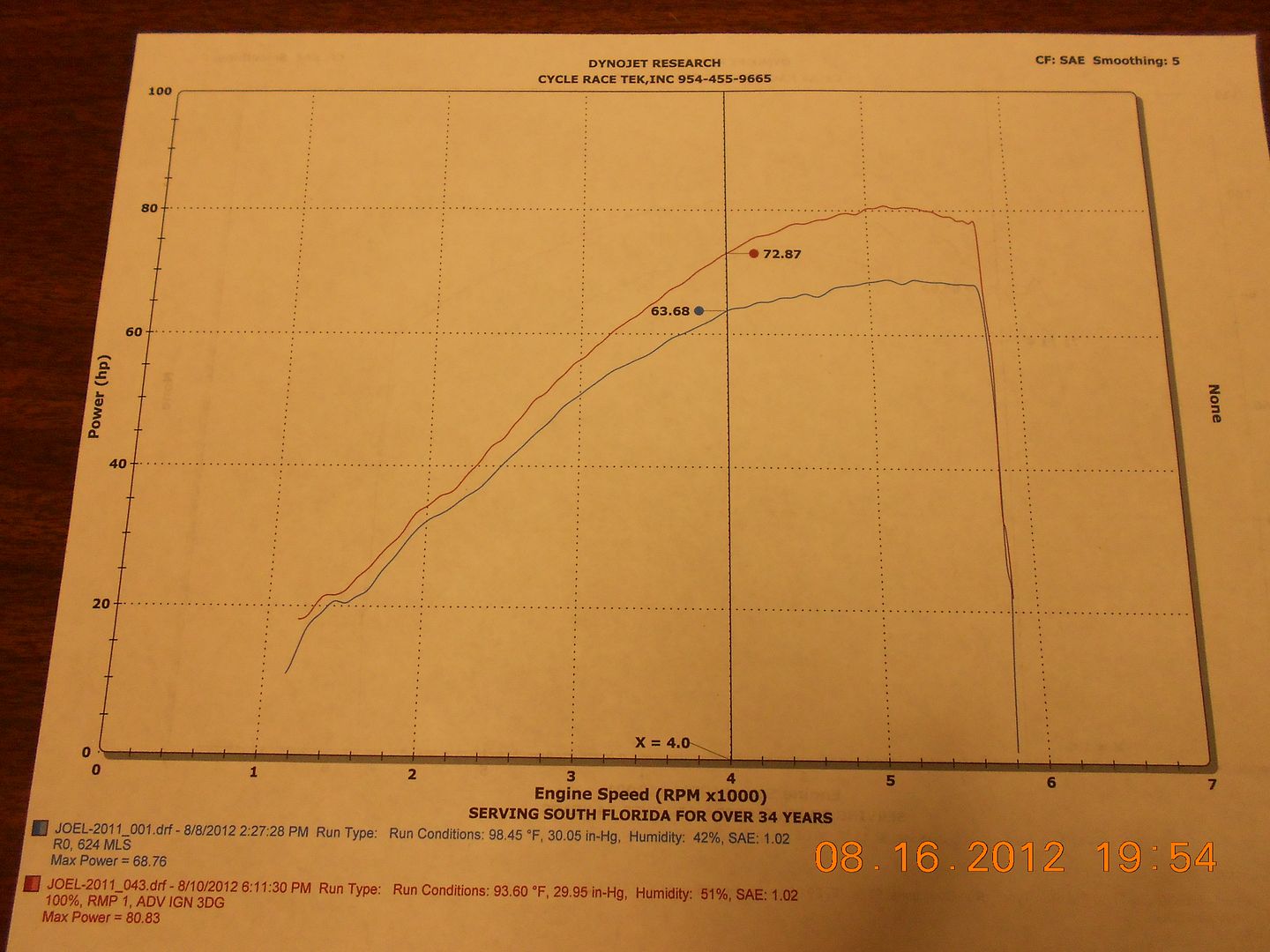 SO...stock peak H.P went from 68.76 to 80.83 ponies, with a gain of 9.19 ponies @ 4000 rpm!
DYNO GRAPH SHOWINGSTOCK AND FINAL TORQUE FIGURES...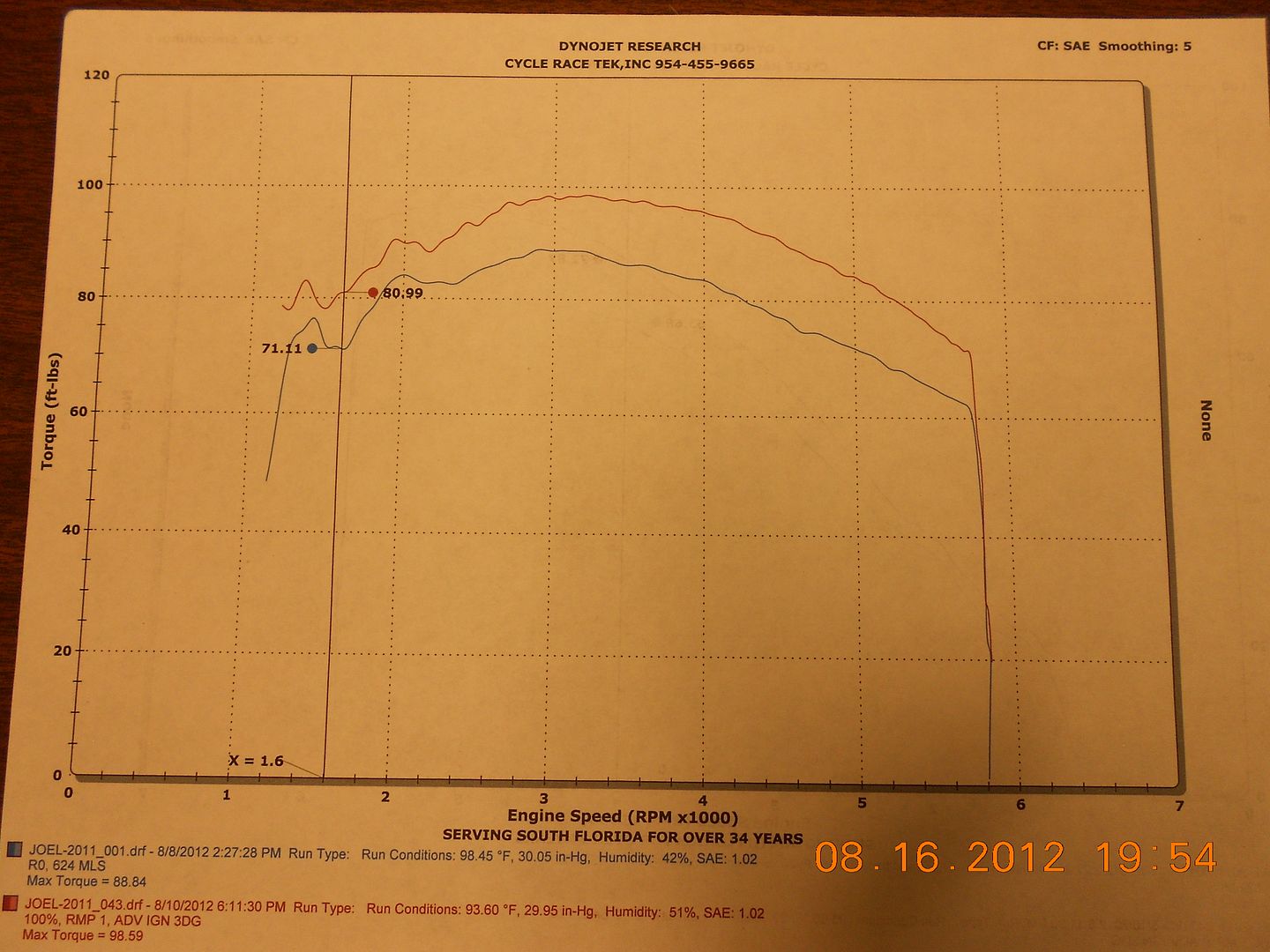 Peak torque went from 88.84 to 98.59 pounds!!
All in all nice gains. The Tri-Ovals look absolutely gorgeous on his black Vaquero with a really nice sound, quiet when you want them to be, and a some noise when you twist the throttle. With the change to Amsoil this clunky shifting Vaquero now shifts like a hot knife thru butter!!
Hopefully he will chime in with his thoughts.
RACNRAY