Just some pics of my Harbor Freight #66771 Tag Along Trailer. Seems to pull really nice. You know it's back there though. Bike accelerates slower, takes a bit more throttle to maintain but no problems really. I've only got about 40 miles on it so I don't know much yet, but took these pics at work.
This picture is from the side to show the length from nose to tail of the new setup. I am twice as long now.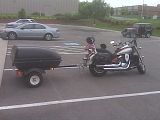 A shot from the back to get an idea of the width. The trailer is sized in width to fit the topper, or the topper is naturally the size of the trailer, either way, it fits nice and doesn't wobble with stock tongue length which evidently a lot of folks worry about. There is room up front for a cooler rack/spare tire storage, whatever.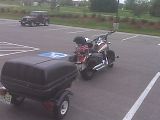 After the first empty test hop you GOTTA put SOMETHING in there. I needed something to drink at work. Peach Fresca, some bottled water, squeeze Parkay and some popcorn oil. Not much but it's a load and that's all that counts. Not like I was going to load it up with rocks but I did threaten a neighbor when I found out she had a load of wood mulch coming to put in between her the raised rows in her garden. Lesse, how many loads per cubic yard, hmmm.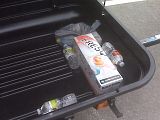 Now my OLD Sears topper, and the ones I had before, had plate metal hood supports. They scissored to fold and put the top down. Those worked but these Gas Air shocks are pretty neat. The only thing is I've replaced dozens of the Gas Air shocks on printer hoods over the years and never had to replace a plate metal support. If I use this trailer a couple times a year it won't be too many trips before I have to replace the cylinders. Then again, the shocks I've replaced were pretty old, we'll see. It's purty cool right now though.