Thought I'd share my experience...
One of the first things I wanted to address regarding my 900 Classic was my concern about its visibility from the rear. After looking at the various options I decided on the Custom Dynamics Smart Triple Play...mainly because I just liked all the programming options (especially since I plan to upgrade to LEDs eventually), and the ability to adjust the intensity of the turn signal lamps when in running light mode:
I ordered part number GEN-SMART-TPU-UNV directly from the Custom Dynamics website. While there I also picked up a pair of red lenses (RTSL 1300). Total $107.89 shipped. I did not buy a load resistor.
Having no intention of cutting up the factory wiring on my bike, I decided to build an "extension harness".
I found a connector set (6 position .110 inch / 2.8mm) that perfectly matches the factory harness connector here, $9.55 shipped:
http://www.qualitycycleparts.com/34_6937_6_pin_Male_Female_coupler_set_p/34-6937 electrical coupler set.htm
UPDATE: Looks like Quality Cycle Parts is out of business. The same part number 34-6937 is available here:
https://www.z1enterprises.com/terminal-connector-set-t-6-pin-off-white-1.html
....also available at Eastern Beaver (PN 6P110):
https://www.easternbeaver.com/Main/Elec__Products/Connectors/110_Connectors/110_connectors.html
The hardest part (for me) was finding good wire that I didn't have to spend a small fortune on, as in 25ft+ rolls. Found this guy on e-bay and got five 5ft long pieces of 18 gauge GXL wire in the same colors as the factory harness (to keep things clean and simple) for only $13.25 shipped. If you "Ask A Question" to the seller and tell him what colors you need, he will make you a package deal:
http://www.ebay.com/itm/GXL-stripe-automotive-wire-18-gauge-120-colors-Harley-Honda-Yamaha-Suzuki-Indian-/261157608879?pt=Motorcycles_Parts_Accessories&hash=item3cce34ddaf&vxp=mtr
This is very nice wire. I think the factory wire is 20 gauge, but to me the 18 is a little easier to work with. Works fine with the above connector kit.
The tools you'll need: needle-nose pliers, wire cutters, crimping tool, electrical tape.
The steps I followed:
1. Study and understand the installation instructions that come with the Smart Triple Play;
2. Remove the seat;
3. Decide on a location to place/mount the Smart Triple Play; determine the length of extension harness you need. I made mine 8 inches long;
4. Locate the harness coming out of the rear fender going towards the gas tank; find the connector and disconnect;
5. Draw a "pin out sketch" of the connectors: what colored wires are where. Double check;
6. Fabricate and test the harness on your bike before cutting and connecting the Smart Triple Play;
7. Install the Smart Triple Play onto the extension harness according to the instructions that come with it. The wire color/function information it contains for Kawasaki was exactly right for my bike (agreed with Service Manual diagrams). You can use the posi-lock connectors if you want to but I didn't (I used old-school twist). Tidy the finished kit up with electrical tape;
8. Plug and Play! Replace your rear amber turn signal lenses with red.
My experience: I've only ridden about 100 miles using it...city, stop-and-go driving. So far, I love this thing. Installation and set-up/programming was easy, the instructions concise and accurate, and performance exactly as advertised. The turn signal flash rate is a bit faster than originally, but only a bit and I actually kinda like that. No regrets. I'd do it again.
Here's a picture of the full kit (I removed all the posi-lock connectors from the Smart Triple Play as I don't like or trust them):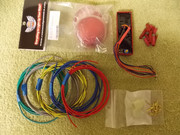 The factory connectors: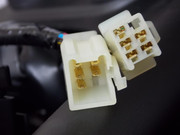 My pin-out sketch of the factory connectors ("looking into the connectors"):
The finished kit: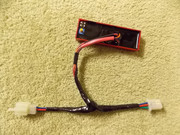 Finished kit installed (not shown: the heavy-duty freezer bag and twist-tie I used to seal it up in):