Discussion Starter
•
#1
•
Congrats!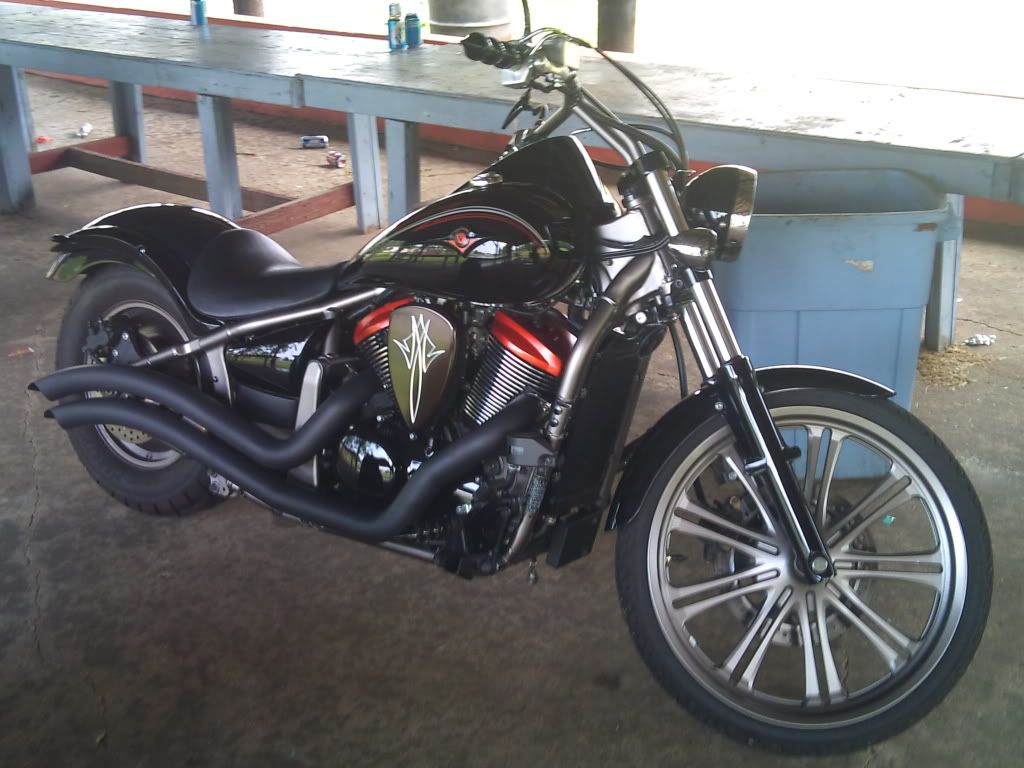 Model: Vulcan Custom SE
Eng Size: 900CC
Pipes: Cobra Black Swept
Seat: Britt Solo Seat
Wheels: Stock SE Rims 200/70/15 Metzeler Rear 90/90/21 Metzeler Front
Accesories: ( Arlenness Black Scop Mirrors ) ( Xoprodox Black Tribal Spike Grips and Pegs ) (Big Barons Stripe Air Kit Blk ) (Britt Rear Fender) (Britt Lowering Kit) (Dyno Jet 5 Power Commander) (Bikers Choice Blk Oval Rear Turn Signals) (Black Smoked Front Turn Signal Covers) (Black Spike Valve Stems) (Black Arlenness Side Liscense Plate Holder w/Diamond LED Brake Light) PLEASE CHECK OUT MY NEW PICS OF MY CUSTOMIZED HEADLIGHT AND MOUNTING BRACKET I CUT AND MODIFIED AND PAINTED ( COBRA @ POWDER COATED HEADLIGHT ) I
Story : Theres not much of a story except my desire to change this once stock high sitting bike into a meancycle. I have this bad a$$ bike lowered 3 inches , had to take the splash guard off and i tell ya it didnt effect anything!....Anyway I have much more to do to this bike like a black headwinds headlight and a 7 degree triple tree and a 230/60/15 avon than maybe mes around and paint it something crazy......Thanks to all that vote for me....Also if wondering all work was done by me and my 15 year old son in my garage We had alot of fun Thanx Sorry for the picture lay out dont know how some of them went way to the right of the page LOL Free Riding Is The Only Wat To Ride......Ride Free My Friends !!!!!!!!!!!!!!!! IT took alot of time to customize that thick steal headlight mounting bracket but I think it turned out great !!!!!!