Discussion Starter
•
#1
•
I have a 2013 Kawasaki Vulcan 900 Custom I wanna sell. There is absolutely nothing wrong with it. It has never been wrecked, laid over, or abused.
List of add ons:
- [x] Vance & Hines slash cut staggered pipes - Black
- [x] Corbin Young Guns real leather seat with driver backrest
- [x] Kawasaki OEM touring windshield
- [x] Memphis Shades lowers - Clear
- [x] GenMar x-11 black handlebar risers
- [x] HID headlight kit
- [x] Kawasaki OEM backrest with luggage rack - Black
- [x] Scootworks adjustable lowering kit
- [x] Saddlemen FTB1000 Sport Sissy Bar Bag
- [x] Saddlemen BR3400 Back Seat/ Sissy Bar Bag
- [x] Nelson-Rigg XL deluxe all season cover
- [x] Kuryakyn throttle lock cruise control
- [x] Butler 34 oz. mug and ring holder
- [x] Akron SM 632 slim grip phone holder
- [x] Helmet Lok clip
- [x] LED tank underglow kit - Green
- [x] Battery Tender Junior charger automatic
- [x] K&N air filter
Also have riding gear:
- [x] Shoei GT Air Wanderer helmet - White - Size Large
- [x] Sena 10U integrated Bluetooth headset in helmet
- [x] Wilson Motorcycle Chaps - Size Small
- [x] River Road fingerless motorcycle gloves - Size Large
- [ ]
I'm just getting out of the biking game. I had this bike 2 summers and just got back from a 2,200 mile trip through 7 states and it runs like a dream. My buddies are slowly selling theirs and I guess I'm just moving on too. I have all records and receipts of everything involving the bike in an organized folder. It's coming up on the 7,500 service and if it doesn't sell by then or soon I'll have it serviced before I winterize the bike again. Only thing this bike could use soon is a rear tire. I was gonna put a 200 back there. It has a 180 now and I know some people go narrower and taller with a 170 and some like fat tires and go 230 but that option I'll talk about with the buyer and we can work on the price accordingly. I would like to sell the bike with all the accessories and gear and everything in one package. It's pretty much everything a new rider would need to get started into riding. But I'm a reasonable guy. We can negotiate on price and if I had to I would break up the package. I customized this bike in a way that fit me but in a way that was practical too. I know some people like different looks on their bike. But I feel like most things I did most Vulcan riders do too. Almost everyone complains about the seat so I bought a nice genuine leather Corbin seat. The gap between the back fender and tire could hold a small dog so I put the lowering kit on and it looks better and handles better to. This bike feels planted and I've never scraped or bottomed out. I lowered it 2 inches. I put handlebar risers on so I wouldn't have to reach for the bars. The windshield and lowers takes care of the wind and buffeting. The HID headlight really makes you visible to other drivers. The pipes scream so you're heard. And I just put them on after my trip so they have maybe 20 miles on them. I have read a lot of Vulcan forums and did lots of research and studying on this bike so any questions about this bike or the Vulcan 900 I can probably answer.
I really don't have anything I'd trade it for so no trades! Money talks! Cash is king! And no I don't need help selling or scammers harassing me. And I don't need people wasting my time either. Serious callers only please!
It's a beautiful bike! I get compliments all the time!! Depending on who you are and if you're licensed and bring money I'll gladly let you test ride it. The bike would sell itself! But I don't need someone laying it over. I've been meticulous about taking care of it. I serviced it when needed, cleaned it regularly with specific matte paint car shampoo and I winterize it for the winter. Last winter it sat from November to March and it fired up flawlessly. It's a healthy bike and it'll run for a long time yet. It's also always been garaged. And like I said lets talk price! It's gonna be a good deal for someone vs buying the bike and doing everything I did themselves. I have the title in hand! Wanting to sell asap!
Any questions at all call after 6 or text anytime 620-277-8153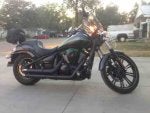 [IMG][/IMG]
Sent from Motorcycle.com Free App