Discussion Starter
•
#1
•
Please join me in congratulating smedlin on winning Bike of the Year.
Truly, a remarkable bike smed!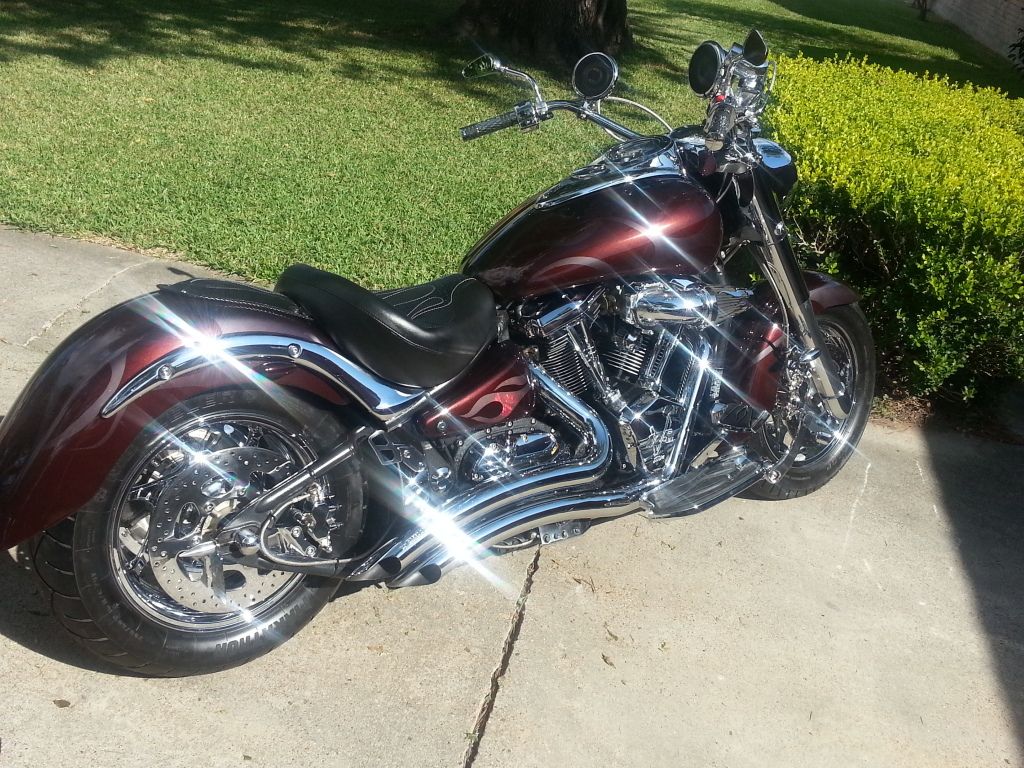 I entered this contest once, about 2 years ago. But I didn't win. My bike was mostly stock. It's changed a lot since then.
Year: 2004
Model: Vulcan 2000
Eng Size: 2024cc (125ci)
Pipes: Freedom Performance
Seat: Mustang
Wheels: Factory Wheels
Accessories:
600W stereo (not sure how many times I've moved/rewired the amp)
Rivco Air Horn
AeroMach - AM-9500C Cruisin' Pegs for Kawasaki - Solid Arm
Scorpi-900 Alarm with 2 way pager, tilt sensor and 3-Stage Perimeter Sensor
Way to many stuff to actually list them all.
In late 04, early 05, I was looking for a bike. One I called a "Practical Bar Hopper". I had already ruled out the "custom choppers", in part due to price (30k+!!) and in part due them being not something you could really ride daily (remember, I was looking for something "practical".
In March of 05 I found this bike at the Kaw dealer. It was a left over from the previous year. He dealer made me an offer I could not refuse.
The stock pipes, intake, and blinkers never made it out the dealer door. It was an attempt to streamline and make it into that "bar hopper".
Other than picking up a Mustang seat in 07, the bike stayed unchanged until last year.. when the "snowball" hit. (snowball, because once I started.. it just kind of snowballed into this..)
(and I still blame YOU bigsarg for starting it)
It was a huge learning process. The long timers in the V2K group have had a lot of laughs at my mistakes. For a good chuckle, read my thread on changing the oil for the first time.
I had the factory wheels, pulley, brake calipers, rear caliper bracket and regulator cover chromed.
I had the seat, passenger seat, sissy bar pad and rear fender bib reupholstered by American Drag Seats.
I polished (by hand, myself), all three rotors, the fork lowers, master cylinder, clutch perch, muffler heat shield,and muffler protector bracket.
5th Gear Resistor Mod - This was the first time I had ever soldered anything.
Front Pulley (larger by 1 tooth)
New Brake, Clutch, Throttle cables. This was when I had to learn how to remove the tank. Had never done it before.
Baron's Tac, with Master Cylinder Mount.
Customized State License Plate (V2K)
Relocated Rear Caliper (Read about that here)
I drilled the handle bars and ran the wires thru it (including the Tac). I probalby should have just bought new bars. It was a pain to do.
Added the Freedom Pipes
Two inch rear drop kit.
Relocated the front and rear blinkers - Let me tell ya, drilling holes in that rear fender was scary.
Added a run-turn-brake controller. This allowed my rear blinkers to act as additional running/brake lights. This was actually a pain because I had tear apart my rear blinkers to change the color of the LEDs to red instead of amber.
Added over 300 LED's. Took me over a month to do that.
This list could go on forever.
The high light of course is the paint and fab work I had done by Artistic Fantasies Custom Paint.
The rear tail light was cut out and LED's were fiberglassed/molded in it's place. That big rear fender looks REALLY good smoothed out.
LED's were molded into the coil cover and "125ci" lights up. We did the same with the flames on both side panels.