The Dreaded Left Turn in front of you
---
Two riders were killed in my area recently. The dreaded left turn in front of you that you can't miss. What do you guys do to avoid it? I brake and just assume everyone is going to turn left in front of me.

I suppose some cases are unavoidable but it seems to be the major cause of accidents. They literally don't see us. What can we do to change that?
hi,
well, 4 wheelers are enclosed in their coocoon, they don't see us cause they're busy texting,
or their minds are drifting somewhere else beside the happannings on the road.
therefore, it's our responsibility to get in to their minds to predict the next move, in order to stay alive,
so, ride as the road detects you, don't overtake in high speed,
don't ride along side the cars jammed in traffic, as they always try to escape to the left without signaling,
defently use the horn several times, use high beam on/off also, (front light on, all year long)
make all needed procuations to let them know you're there.
always expect the worse and stay alert- its caos out there.

have a safe ride.

Raz
Top Contributor
Join Date: Jan 2013
Location: Birmingham Al
Posts: 1,229
The power of three. Over 30 years ago when Honda 750-4s and Kawasaki 750 ninja's (widow makers, I rode some of them they earned that name the hard way) four wheeler's always pulled out in front of you, ALWAYS! A few years ago when my youngest was in the last semester of college, I bought a used basic Nomad. And the pattern continued until I put a light bar on the Nomad. Suddenly, the pull out rate dropped to about the same as the pull out rate in my truck.

On the Nomad the difference was dramatic. From the first ride with the light bar there was a noticeable difference.

Since then I have owned 3 bikes. A Voyager and a Heritage Soft Tail with the power of three and a Vulcan 900 without. The pull out rate on the 900 was much higher. I only owned the 900 for a short time but the difference was very noticeable.
---
10 Voyager
01 1500 Drifter
VRA Central Alabama Chapter 1-61
Member
Join Date: Nov 2015
Location: South Florida
Year/Make/Model: 2011 Kawasaki Vulcan Nomad
Displacement/CC's: 1700
Color: Black & Silver
Gender: Male
Posts: 70
Riding with awareness and always assume cagers won't see you and will violate your right of way. It is the most common accident. If you watch motorcycle crash videos on youtube the majority are cars turning left. I have the Motorman DVDs and watch them every once in a while to keep my memory fresh. Here are two of his tips:
https://youtu.be/t9O7SVnXjxQ
https://youtu.be/A1Ehv88mBCc
Top Contributor
Join Date: Jan 2012
Location: Fort Worth
Posts: 2,221
+1 to what TS said.
Put a light bar up front; it will make a big difference.
Wear a light colored helmet or a light colored jacket; black blends into the background too easily.
People don't have to be texting or preoccupied to miss us.
Reflected light is caught by our eyes; but all that information is processed by our brain. And our brain very good at discarding information that it subconsciously determines is irrelevant.
I'd suggest a Wolo Bad boy air horn too.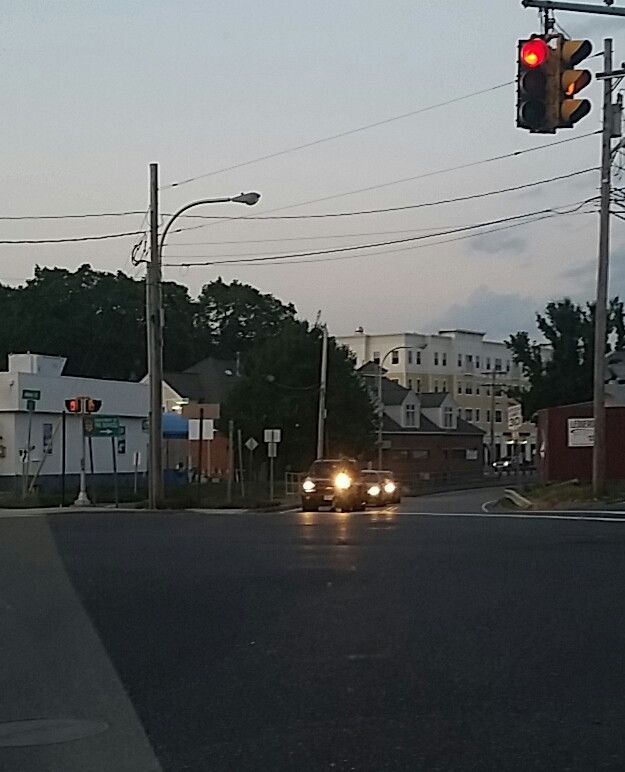 Scott
---
2012 Voyager 1700 ---SOLD
Pearl Alpine White/Pearl Luster Beige
Nice

2011 Rocket III Touring
Phantom Black
Naughty

2016 Indian Roadmaster
Thunder Black

There can be no happiness if the things we believe in are different from the things we do
BOTM Winner
August 2015
Join Date: Jan 2011
Posts: 283
+2 on what TS and Scott said... Light bar to get the power on 3 up front, an airhorn and ride defensively.
Senior Member
Join Date: May 2012
Location: Upstate, SC
Year/Make/Model: 2008 V2KLT
Gender: Male
Posts: 406
My buddy has what looks like a chrome finish on his helmet with a translucent blue top coat and when the sun or headlights hit it, it looks to be the same color as the blue light from a police car. The height combined with the color has a tendency to get people attention out of their phones and back on the road if only briefly. I also always notice bikes with headlight modulators more quickly than without.
Lifetime Premium
Bike Of The Fall Winner 2017
Join Date: Mar 2013
Location: San Antonio, Texas
Year/Make/Model: 2006 Vulcan 900 Classic
Displacement/CC's: 903
Color: Silver
Gender: Male
Posts: 2,813
I put on a light bar and keep the headlight on high beam day or night.
---
"As long as I have the voices in my head, I'll never ride alone."

2006 Vulcan 900 classic
Mustang Day Tripper seat
Cobra Light Bar
Cobra Air Scoop
Cobra short sissy bar
Cobra Lowers
Baron's front and rear pulley
Baron's Big and Nasty pipes
Leatherlyke hard bags
Blue Superbrites LED accent lights
Chrome Woo Loo Air Horn
Avon Grips
Senior Member
Join Date: Mar 2013
Posts: 478
I doubt any of these things would have saved me, as the girl who nailed me didn't even glance at anything except the green traffic light after she looked up from her phone. She would have pulled out in front of a semi, a train, or a police car.
Senior Member
Join Date: Dec 2011
Location: Longwood Fl
Year/Make/Model: 2011 Vulcan Voyager
Displacement/CC's: 1700
Color: Blue/Silver
Gender: Male
Posts: 158
The light bar does help at times. Another thing to remember is that the second you get on the bike you become invisible to everyone until you get off the bike. A statement I've made more than once, if they can't see me in a full size pickup, how the heck do you think they'll see me on a bike?
Posting Rules

You may not post new threads

You may not post replies

You may not post attachments

You may not edit your posts

---

HTML code is Off

---