Premium Member
Join Date: Jun 2014
Posts: 8
Driver Seat W/ Backrest Worth it?
---
I know there are a lot of threads on Seats and preferences, and I know I am not alone when I say that the original seat for the Vulcan 900 is not the best.

I am looking therefore to upgrade to a new seat. I think having a drivers seat backrest would be supper comfy and overall better. However after looking around a backrest costs ~150-200 dollars more than a regular seat without one. I am having trouble justifying the extra price.

Specifically I have looked at the Mustang seats (expensive I know). and some the self modification options.

In summary I guess I am wondering if people who went with a driver seat backrest thought it was a game changer or not.
Top Contributor
Join Date: Nov 2011
Location: NorthCentral Florida
Posts: 814
Really depends on what shape your back is in. Personally I couldn't ride all day without one. So to me, it is a game changer.
Member
Join Date: Sep 2014
Location: Mid-MO
Posts: 49
I would say that if you ride over an hour or so then it would be a good idea to have one. I have degenerating disks and I can ride a couple of hours without much discomfort. I have nothing to compare it to since mine came with one and I converted from a sports bike to a cruiser. It comes down to how long you will ride and how much you want to spend.
Premium Member
Join Date: Jun 2014
Posts: 8
Thanks for the feedback guys. I plan on taking some long trips this summer (Sturgis, tail of dragon), hence the need for a new seat. It sounds like it might be worth dishing out a little more to stay comfy on the long rides.
Wouldn't think of riding without one. Saves the old back.
When I bought my new Vulcan 900 Classic Lt last year it only took 1/2 hour to realize the seat was absolutely terrible. It gave me lower back pain and my right hand would tingle. I tried altering my riding position but I wasn't comfortable either. There was no such thing as a little joy ride, they were torture test and it got so I didn't even want to ride.
I looked at all of the options and decided the mustang wide touring seat with driver backrest was what I wanted. I found the lowest price I could and ordered it and couldn't be happier. If I ever feel the need to remove it, it just lifts out. With highway pegs it fits like a new glove and I can just sit back and enjoy the ride, which is why I bought the bike in the first place.
Top Contributor
Join Date: Aug 2011
Location: Missouri
Year/Make/Model: 2014 Kawasaki Vulcan Vaquero ABS SE
Displacement/CC's: 1700
Color: Orange SE
Gender: Male
Posts: 7,620
I really like my backrest. It serves a lot of functions. Not only is it comfortable, but on really long rides, I can push up against it with my legs to take some pressure off my rear-end.
---
"8 But God demonstrates his own love for us in this: While we were still sinners, Christ died for us."

Romans 5:8 (NIV)
2014 Kawasaki Vulcan 1700 Vaquero ABS SE
iPod Connector Kit, Kuryakyn Highway Pegs, Mustang Touring Seat, Marvella's Hitch, Kuryakyn Trailer Wiring Kit, Haul-Master Tag-a-Long Cargo Trailer


2011 Honda Shadow Aero 750 (Wife's)

Memphis shades quick-release windshield, OEM Solo Seat, Mustang Fender Bib, Chrome Solo Luggage Rack


Past: 2006 Vulcan 900 Classic LT
I don't have one and for long trips (without passenger) I set my backpack on the back seat and use it as a back rest. I think that if you ride two up long legs it would be convenient.
Senior Member
Join Date: Dec 2014
Location: NW Ohio
Year/Make/Model: 2015 Kawasaki Vulcan 1700 Voyager
Color: Black/Gray
Gender: Male
Posts: 357
I just got one. Searched for well over a month to find a used one. The ones with a backrest are hard to find used. Looking forward to giving it a good workout.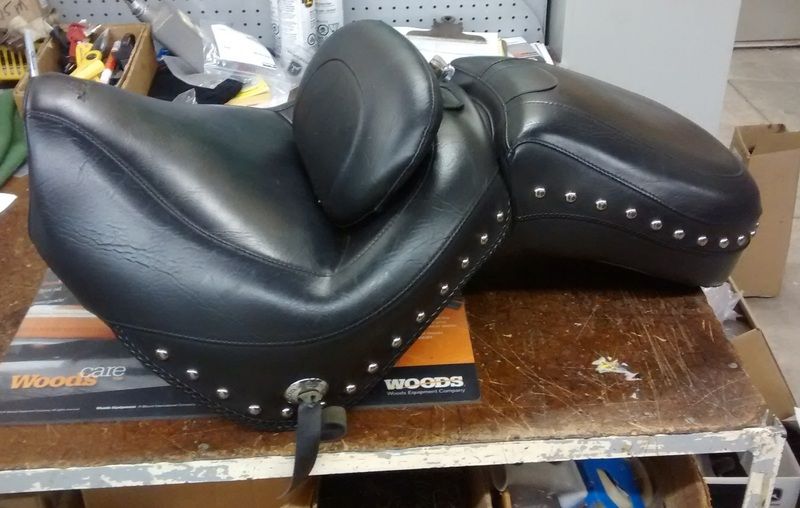 ---
2015 Vulcan 1700 Voyager
Ivan's ECU ~ Kuryakyn Long Horn Highway Pegs ~ Chucksters Risers ~ Grasshopper Backrest ~ Dual Horns ~ 34024-1330 Kickstand ~ Kawi Gel Front Seat

2008 Vulcan 900 Classic LT - Traded
2002 Honda CB250 Nighthawk - Sold after 15k miles
Lifetime Premium
Join Date: May 2012
Location: Sweetser Indiana 2009 Voyager Titanium ABS
Posts: 419
Quote:
Originally Posted by
boy_welder2000
View Post
I just got one. Searched for well over a month to find a used one. The ones with a backrest are hard to find used. Looking forward to giving it a good workout.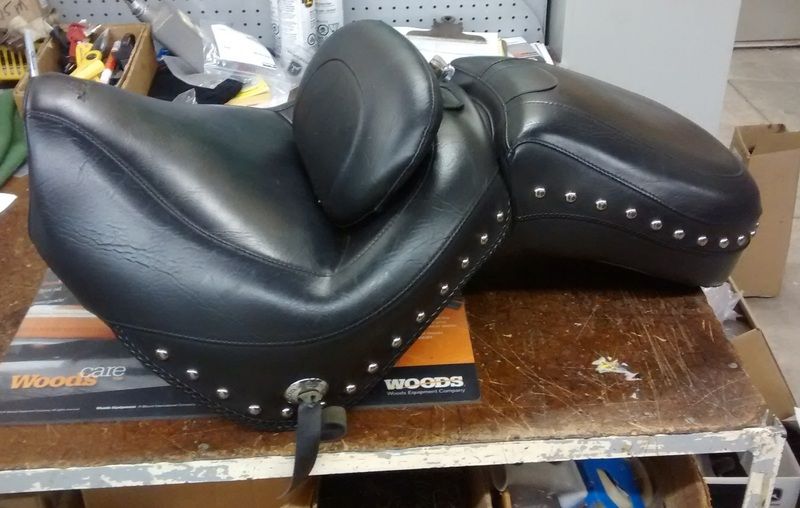 Hard to find used because most of Us love the backrest in the seat. Had the same seat pictured on My 06 nomad and was the first piece I bought for the 09 voyager. And I have a good back thank God.
Posting Rules

You may not post new threads

You may not post replies

You may not post attachments

You may not edit your posts

---

HTML code is Off

---