Golfer Scott's VN800 Build
---
Not sure if this is the right place, so if need be please move my thread. But I wanted to keep a log of my build progress for myself and for others who may be interested.

I bought my first cruiser bike a couple weeks ago off Craigslist. I darn near stole the bike. Its a 2000 Vulcan 800 with around 20k miles on it. Picked it up for $1300 after talking the guy down quite a bit. He originally started off asking double that.

The bike was previously chopped up a little and he started to make it into a bobber. When I received the bike, it ran pretty well. But was not legal. No registration, no turn signals, no tail light. Seemed to run decent, but could tell it needed a tune up.

So my plan was to just replace a few basics and get her running good, then customize it as time goes on. Well its been about 2 weeks and I have this thing completely torn apart rebuilding quite a bit.

Here is a list of things I have bought and am in the process of doing.

- removed baffles in exhaust
- carb rebuild with jet kit
- petcock rebuild kit
- new brakes front and rear
- new chain
- new sprockets front and rear 40/18
- new wheel bearings front and rear
- new front wheel 16" and replacing the 21"
- new drag handle bars
- turn signals and tail light
- black 7" headlight with grill
- oil change with oil filter and screen
- scooterize airbox with K&N filter
- new spark plugs
- fuel filter
- exhaust tape
- black brake and clutch levers
- painting exhaust black
- painting top and side engine covers black
- painting speedo housing black
- painting chain guard black
- random little touch up paint around the frame and here and there

One i get these things all done and the bike back together, I plan to do the following

- white wall tires front and rear (anyone know if i can get 170 wide tires on stock 3" rim?)
- powder coat rims black
- Blue collar bobber front and rear fenders
- paint tank and few side pieces green like in the picture
- front tool bag and side saddle bag like in the picture
- tan leather grips
- possibly new seat


Attached is a picture of my bike on day one and the green bike is my inspiration of what I am going after.
anyone know how i can add more photos? i tried to make a reply and attach a few more pictures of my progress but it says the image is too large and max is 98KB.
Administrator
Join Date: Apr 2008
Location: Twin Cities, MN
Year/Make/Model: 2008 Honda Goldwing Level3
Displacement/CC's: 1800
Color: Pearl White
Gender: Male
Posts: 11,800
Host on one of the many free sites and link to them
---

Jeff, Twin Cities, MN

To view links or images in signatures your post count must be 1 or greater. You currently have 0 posts.


To view links or images in signatures your post count must be 1 or greater. You currently have 0 posts.


To view links or images in signatures your post count must be 1 or greater. You currently have 0 posts.

Here are some pictures of my progress.
From when i first started to disassemble the bike then to removing the baffles and grinding them smooth. To primer and paint. I am painting all these parts a satin black (flat black paint with satin clear) using VHT high temp primer, paint and satin clear. So far everything looks great. i have baked one piece in my oven and it stunk up the house. so looking for alternatives. debating if i should move my oven out to the backyard or garage ( but i don't have 220 out there) or find a local powder coater or someone and use their oven. But everything needs baked for 30 mins at 650 degrees. you can see in one photo of the speedo housing, before the black paint, the primer would scratch off with my nails and show the metal underneath (top right corner area). then after baking in my oven on broil for 35 mins, it only seemed to make the primer lighter when i scratched it (lower area). i did sand all the chrome down with my orbital using 80 grit before primer.
The exhaust was not baked at all because it wouldn't fit obviously, but i did use primer, paint then clear and let it sit in the sun for a day. The clear seems to be holding up as i cant scratch it like i could before the clear. so i may just finish painting and clear everything and see about baking it all then or sitting in sun for a few days and test it out.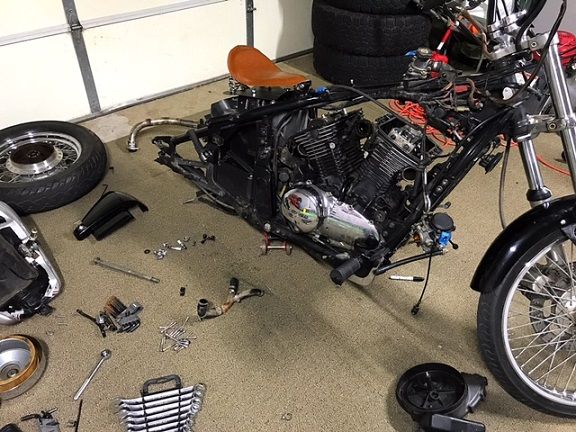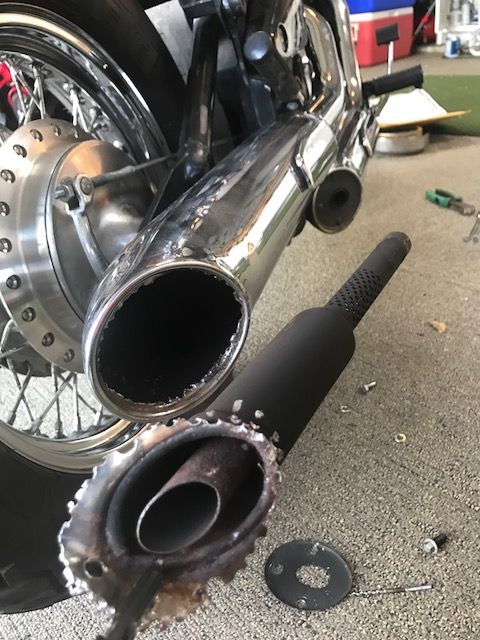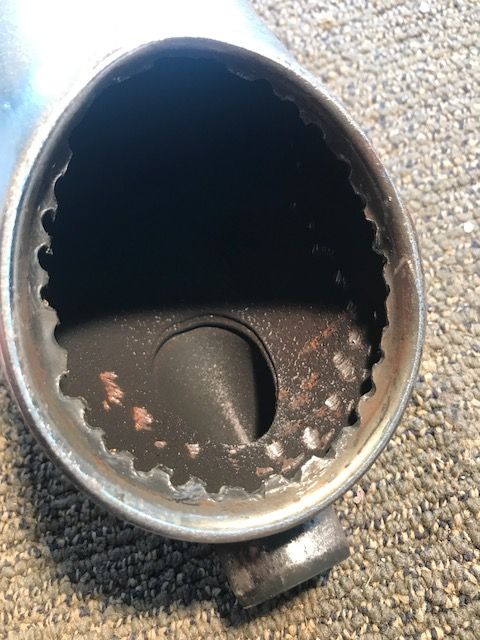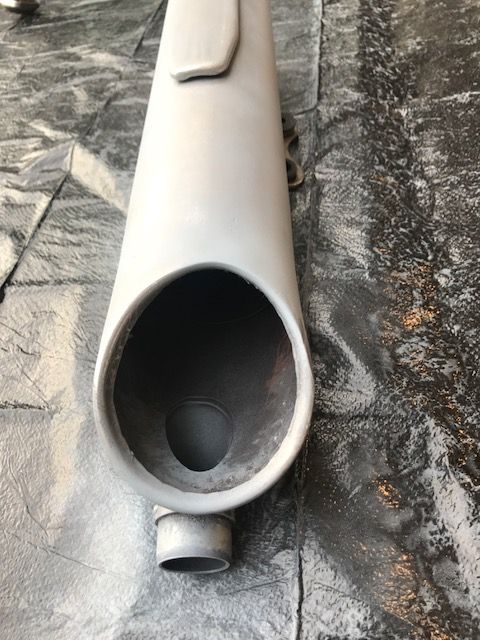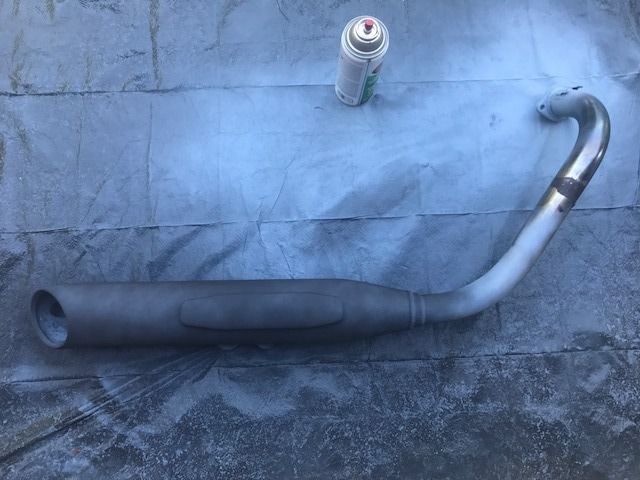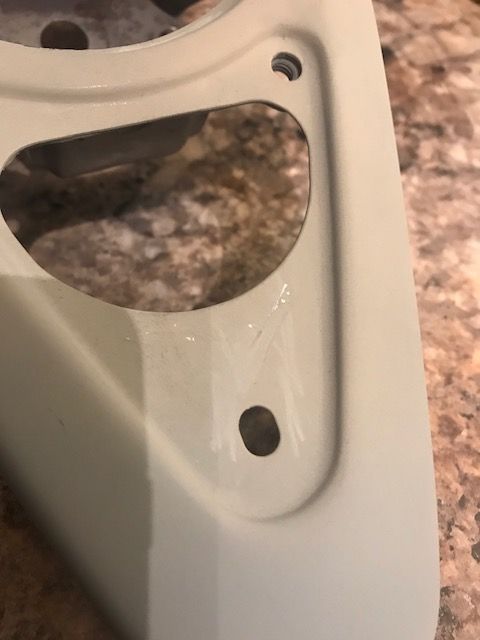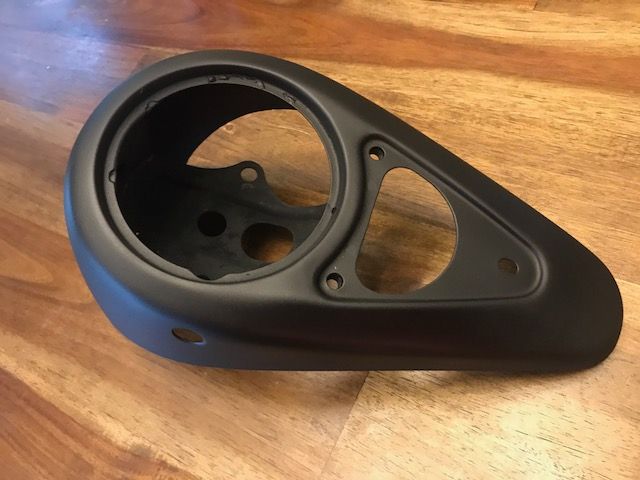 ---
Last edited by GolferScott; 07-10-2017 at

09:01 AM

.
once all these parts are completed, i am going to wrap the exhaust pipes and do some touch up painting around the bike (some parts of the frame are scratched up, etc.) then hopefully within the next week or so, i will put it all back together with all the new parts and get her running, registered and inspected.

then.... i think next up will be getting the rims powder coated and white wall tires put on and purchasing the BCB front/rear fenders. then will come the green paint on the tank, fenders and side fairing pieces.
Senior Member
Join Date: Mar 2010
Posts: 437
Looks good so far! Just a note though, BCB stated to me that the widest rear tire that'll fit under their VN800 rear fender is a 160, so your 170 is too wide.

-John
---
2016 Vaquero (mostly stock)
2005 VN800B Bobber (Blue Collar Bobbers kits)
1979 KZ650SR
thank you...

i wasn't sure the 170 would work to be honest. Not only for the fender, but maybe too wide for the rim itself as well? I will probably stick with a 160 to feel safe while driving (if i can find one in white wall. I haven't searched much yet though).
Senior Member
Join Date: Aug 2015
Location: North Vancouver
Year/Make/Model: 2005 Vulcan 800 Classic
Gender: Male
Posts: 101
I'm liking what I see so far. Good work! You may have already found this out, but BCB doesn't make a front fender for the 800 Custom. Wrapping the exhaust was... fun. It's not rocket surgery, but turning the whole pipe while trying to wrap it tight and uniformly was a bit of a pain. I took it slow and it turned out well. Good luck, and keep the pictures coming!
---
Never argue with a fool: onlookers may not be able to tell the difference.
obviously forgot to update this thread. But to be fair, the bike has sat for a while over the winter. Slowly been working on it. Had alot of other things going on. Good news is I am now close. 95% of the bike has been fixed, painted or replaced. Tonight I will be working on all the electrical wiring to get all the headlights, tailights and blinkers wired up and installed. Add the leather bags to the side and bolt all the green pieces down. Then hopefully by the weekend I may actually have it up and running again!!! Do some tune ups and hopefully she will be ready!!

Just got everything back from the painter. I went with the Harley Olive Gold Denim color. Its a matte finish but looks awesome in person. Pics really dont do it justice.
Posting Rules

You may not post new threads

You may not post replies

You may not post attachments

You may not edit your posts

---

HTML code is Off

---