Heading to the Smokey Mountains
---
Since I had to cancel my trip to AR and TX due to the fact my 5th Grandson arrived a little late. Now that I know everyone is safe it's time to hit the road, I and the wife decided to take a little trip to the Smokey's for a few days. I'm leaving tomorrow and stopping to see some family in Indiana for the night, than heading out early Friday and hope to be there by mid afternoon in a hotel somewhere around Gatlinburg or Pigeon Forge.

Reason I'm putting on here is because I've never been there and would love to hook up with someone from around there thats wanna do some riding and give us a tour of their beautiful Smokey's. If not I know there so much to see there and if any of you guys have any pointer's and must see idea's that would be great. I know what your gonna say and the Tail of the Dragon is my main goal. By tomorrow night I will know where we are staying Fri thru sun night.

Anyone interested my cell# 815-830-3155 Text or call , if I don't answer leave a message and I will call you back
Thanks, Rod
---
2012 GREEN/BLACK VAQUERO

Kawi Quick release backrest
Kawi Passanger floorboards
Kawi Luggage rack
Klockwerks 9" windshield
Mustang Seat
Mustang pass backrest pad
Ipod adapter kit/Ipod
Black ISO Grip
Offset ISO highway pegs
PC5 W/ignition
Freedom Performance True Dual Exhaust
Altrimax HP 195/55/16 car tire.
Leather saddlebag chaps
Thunder mfg Tornado air intake
Thunder mfg Throttle Body Gasket
Top Contributor
Join Date: Apr 2010
Gender: Male
Posts: 1,159
Quote:
if any of you guys have any pointer's and must see idea's that would be great. I know what your gonna say and the Tail of the Dragon is my main goal.
I know some people will disagree but to me, Deal's Gap is kind of...meh. It's 11 miles long and low speed. Yeah, it's good for bragging rights and the pictures are cool, but there are so many other good roads nearby. Foothills Parkway, US 441 (on the NC side), TN 73, NC 28, and my personal favorite, the Cherohala Skyway.
I have two Smoky Mountain threads in the Rides forum, one from 2011 and one from 2012. It's hard to not have fun up there. Have a great trip!
+1 on the Cherohala Skyway. I've never ridden it but have been through there ever summer for the first 17 years of my life on vacation to Gatlinburg, Pigeon Forge and Cherokee. Have a safe one and bring back lots of pictures!
---
Chris
Black 2011 Vaquero 1700
Black 2007 900 Custom (sold)
VBA #02389
VROC #24810
Lifetime Premium
Join Date: Sep 2012
Location: Clarksville, TN
Year/Make/Model: 2017 Kawasaki Vaquero
Displacement/CC's: 1700
Color: Red
Gender: Male
Posts: 2,384
I'm hoping to go to Thunder in the Smokies this fall. I'll be looking for time on the Blue Ridge Parkway. Any road in that area is going to be scenic. Make sure you take a jacket, as if you ride to any of the upper elevations, it can get chilly any time of the year.
---
Jerry "Old Bear" Barker
Clarksville, TN
Americas Guardians PS MC
Tennessee 16-A Chapter
"Blaze" 2017 Vaquero
Do the Dragon just to say you did, they have better PR.
There are so many great roads to ride in that area. you can't go wrong. Try and get to Maggie Valley, NC and stop by the
Wheels Through Time
museum, worth the trip and the owner Dale is one heck of a person.
I'm headed that way in 3 weeks. Enjoy yourself and ride safe
---
Present rides
1983 Honda Shadow VT750 - Harley Killer
1987 Yamaha Venture Royale
2005 Yamahe V-Star - Yarley
2012 Kawasaki Voyager - Weeping Angel
Top Contributor
Join Date: May 2010
Location: Middle Tennessee
Posts: 2,656
I rode the entire Blue Ridge Parkway a couple weeks ago. I would recommend at least riding from Cherokee, NC to Mount Mitchel State Park if you can't ride the entire BRP.
Here are a couple pics from Mount Mitchel last November.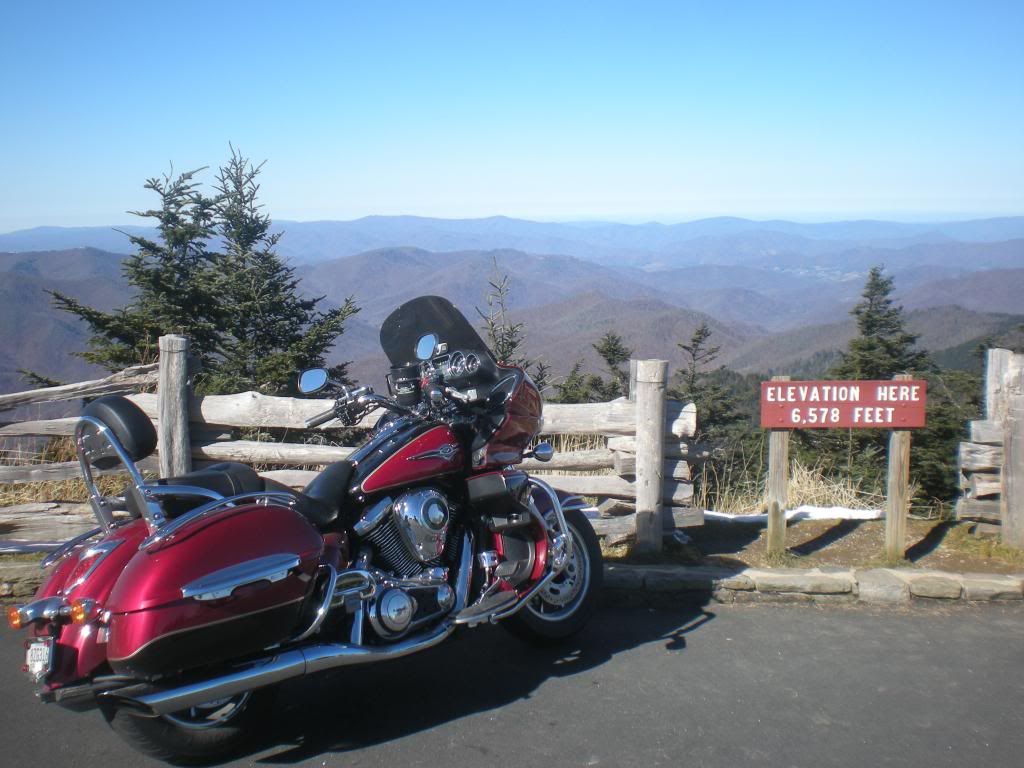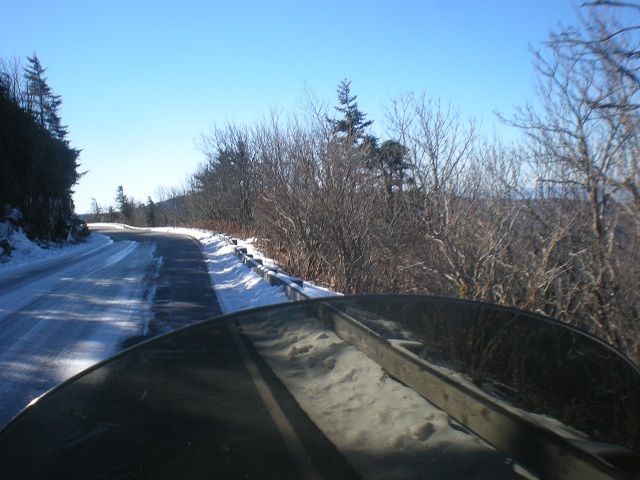 We had to ride the Dragon for the photo op.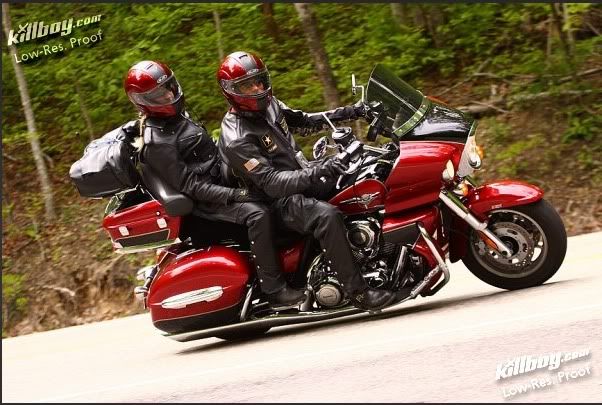 Cades Cove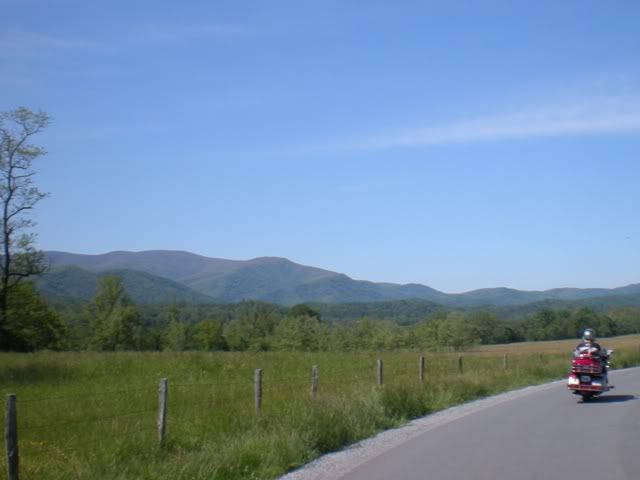 ---
2010 Vulcan Voyager 1700 ABS, 2007 Vulcan Mean Streak 1600
2012 Concours 1400, 2011 Versys 650, 2012 KLX250S

see my garage for list of accessories
Be prepared for an awesome time. Went south from skyline down the blue ridge, great scenery, awesome curves, photo op the whole way (great pics 2wheel!)... Man, I'm excited for ya! Please share the experience with a post ride write up!
---
95' 88
TN 73 is a must ride ! Does not get any more crooked or pretty then that. Goes from Gatlinburg to Towsend.
Sent from
Motorcycle.com Free App
---
2010 Voyager
Scootworks 2 inch fat risers
vance&Hines slipons
Mustang Wide Touring studded
PCV
Michelin commander 2
Ipod adapter
Titanium header wrap
8 to 12.5 inch bagger windshield
Iso grips with Rays throttle mod
Chrome rear floor board covers
Kams Kit
Quote:
Originally Posted by
twowheeladdict
View Post
I rode the entire Blue Ridge Parkway a couple weeks ago. I would recommend at least riding from Cherokee, NC to Mount Mitchel State Park if you can't ride the entire BRP.
2wheel, thanks for the pics! I was gonna ride the blue ridge parkway all the way but I already have 3700 miles on the rear tire and she's wearing fast than I was hoping it would so I cut some mile off my total trip. How long did it take to ride it all? I'm thinking you didn't do it in one day!
---
2012 GREEN/BLACK VAQUERO

Kawi Quick release backrest
Kawi Passanger floorboards
Kawi Luggage rack
Klockwerks 9" windshield
Mustang Seat
Mustang pass backrest pad
Ipod adapter kit/Ipod
Black ISO Grip
Offset ISO highway pegs
PC5 W/ignition
Freedom Performance True Dual Exhaust
Altrimax HP 195/55/16 car tire.
Leather saddlebag chaps
Thunder mfg Tornado air intake
Thunder mfg Throttle Body Gasket
---
Last edited by Romans5.8; 06-19-2013 at

11:21 PM

.
Thanks everyone for the reply's! I am so looking forward to this trip. for some reason my phone won't let me log into the forums anymore, it says no network available which is bull or I would shear pics thru the trip. Everything you guys have mentioned sound awesome and have my list. Now I'm only down there for 2 days, unless I get lost. Who cares I don't have to be back to work till the following Tuesday. By the way as far as you new kawi rider, I can go right thru Shelbyville and pick you up on the way. lol!
---
2012 GREEN/BLACK VAQUERO

Kawi Quick release backrest
Kawi Passanger floorboards
Kawi Luggage rack
Klockwerks 9" windshield
Mustang Seat
Mustang pass backrest pad
Ipod adapter kit/Ipod
Black ISO Grip
Offset ISO highway pegs
PC5 W/ignition
Freedom Performance True Dual Exhaust
Altrimax HP 195/55/16 car tire.
Leather saddlebag chaps
Thunder mfg Tornado air intake
Thunder mfg Throttle Body Gasket
Posting Rules

You may not post new threads

You may not post replies

You may not post attachments

You may not edit your posts

---

HTML code is Off

---