Member
Join Date: Oct 2012
Location: Westcoast FL
Posts: 79
Wolo horn
---
Anyone have a wolo? Where did you mount your relay.
---
2012 Voyager - Black/Gray/Red. "Matilda"
Michelin Commander II
Longhorn Offset Pegs
Amsoil
Engine Ice coolant


RIP JB. 2015. I miss you brother.
Lifetime Premium
Join Date: Mar 2011
Location: Texas
Year/Make/Model: 2006 Kawasaki Vulcan
Displacement/CC's: 1500FI
Color: Ebony Black/Galaxy Silver
Gender: Male
Posts: 992
I have a 1500 and I mounted mine in the same place the original horn had been mounted. I mounted the horn on the left crash bar.
---
06 1500 Classic FI (Anniversary Edition)
...
Reward the truth, punish the liars...Ted Nugent
I had the Wolo on my Voyager, the relay was in the fairing behind the headlight, and the horn was inside the right lower fairing compartment.
---
Kevin
2015 Ultra Limited

previous
2012 Voyager
2006 Vulcan Classic

VBA #02052
VROC #34932
same as Dean above for my 2012 nomad
---
2012 Nomad
Wolo Bad Boy
Kury offset pegs
Kenwood marine stereo
Top Contributor
Join Date: Jan 2012
Location: Fort Worth
Posts: 2,221
Lots of people have dented their front fender after installing the Wolo in the stock location on the Voyagers.

Mine is mounted inside the left lower fairing.

Scott
---
2012 Voyager 1700 ---SOLD
Pearl Alpine White/Pearl Luster Beige
Nice

2011 Rocket III Touring
Phantom Black
Naughty

2016 Indian Roadmaster
Thunder Black

There can be no happiness if the things we believe in are different from the things we do
Top Contributor
Join Date: Jul 2011
Posts: 894
On my Voyager, I mounted the horn off the left front of the frame, and I tucked the relay in the unused (after BAK installation) left side airbox. I have a Kury cover over the horn . . .
---
2011 Voyager ABS

Thunder Air Kit
Cobra Tri Ovals/PowerPro
Wrapped Headers
CB/Rear Speakers
SageBrush Designs Tank Bib
Kury TourTech Mounts
Chrome Psgr board bottoms
14" Rifle Windshield
WOLO horn
Russell Day Long seat w/backrest
Kury T/S mirrors
Avon grips w/Throttle Magic by RacnRay
Kury Phase 6 LED Headlight & spotlights

Ride Bells by Sabrehood brothers MinatourAce and Outlaw


Blue Knights VA II
Ride With Pride
Lifetime Premium
Join Date: Jun 2013
Location: Saint Louis, MO
Posts: 170
Voyager 1700 - Mounted the relay behind the headlight and put the horn in the lower right fairing. Once the plastic is installed again you can't even tell it's there.
---
.................................
To view links or images in signatures your post count must be 1 or greater. You currently have 0 posts.

Kevin W
STL Missouri
Top Contributor
Join Date: Mar 2008
Location: New Castle, Indiana
Gender: Male
Posts: 3,880
I believe I mounted mine under the tank by the ignition. Have dual electric horn mounted in the boxes in the lower fairing where vent door slides are.
---
2005 800 classic
2012 Voyager ABS
Top Contributor
Join Date: May 2010
Location: Middle Tennessee
Posts: 2,656
I mounted my wolos at the bottom corners of the radiator. I put the relay where the stock horn was located.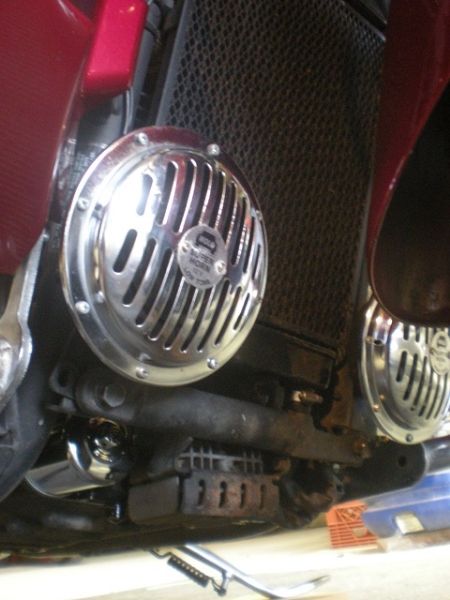 ---
2010 Vulcan Voyager 1700 ABS, 2007 Vulcan Mean Streak 1600
2012 Concours 1400, 2011 Versys 650, 2012 KLX250S

see my garage for list of accessories
Posting Rules

You may not post new threads

You may not post replies

You may not post attachments

You may not edit your posts

---

HTML code is Off

---