Senior Member
Join Date: Jun 2010
Posts: 122
If you were to upgrade from the 500 to something bigger, what would you get?
---
I think I will get the Triumph Thunderbird. For the first time, I prefer the looks of the parallel twin engine over the v twins, and Triumph makes a very sexy parallel twin engine. It looks a lot like the Vulcan 500 but only beefier.
I don't know if I could give up my 500 though. The 500 can do so much for such a small engine and it's my first bike so I am quite fond of it. But that Triumph Thunderbird would be what I would get if I ever lose my 500. What would you get? Or should I say, would you ever upgrade?
Member
Join Date: Aug 2011
Posts: 39
If money isn't a factor? Here are two of my dream bikes:
Triumph Bonneville: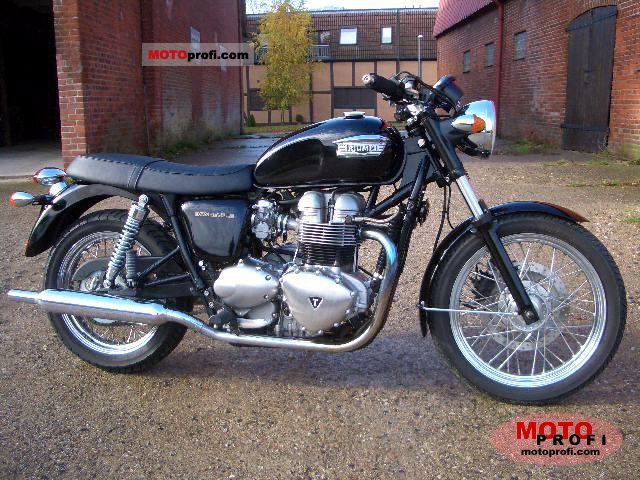 Harley Sportster Forty-Eight (but without the dumb script on the tank)
If I were to upgrade, I'd leave the cruiser world entirely. Next stop is a Yamaha FZ-6.
---
'99 Vulcan 500, 29k miles

To view links or images in signatures your post count must be 1 or greater. You currently have 0 posts.

Member
Join Date: Nov 2010
Posts: 35
Triumph looks great, but, I really like the nimbleness of my 500 - alot.
For me it's not a matter of if, but when.

I got my EN-500 without doing any shopping around for a bike. I wanted to get back into riding after 30 years away from it, and my buddy had the EN-500 for sale and gave me a great deal. After almost 2 year's worth of riding it, I am ready to move up to the type of bike I really like. I won't be getting rid of my little Vulcan though, I will be passing it on to my wife who wants to learn to ride now!

I have been shopping around and I have my list down to 3 possible bikes, all in the "Adventure" catagory. Either the Triumph Tiger 800XC, the KTM 990 Adventure or the BMW F800GS. I've done test rides on the Tiger and the BMW but haven't been able to find a dealer that has a KTM 990 Adv in stock to even sit on around here.

I am like the more upright riding position these bikes offer vs. a cruiser (feet too far forward for me) or a sport bike (leaning forward too much).
I've got my sights set on the Triumph Thunderbird as well. Took one on a test ride not too long ago and man!! It made my 500 seem like a toy. But I still love my 500. The Thunderbird handles extremely well and the cornering was way better than I expected for a big bike. The sound and torque was killer too.
---
'04 Vulcan 500 LTD
Junior Member
Join Date: Feb 2011
Location: Smokey Mountains
Posts: 24
While the Vulcan is a good bike, I will be picking up a FZ1 next week.

Upright seating and should handle the curves the way I like to ride.

Oh, the 130 +or- hp will be fun.
Junior Member
Join Date: Jan 2010
Posts: 13
i just sold my 500 earlier this year. loved that bike but it was my very first bike and i outgrew it after a couple of seasons. i think i would have kept it if i could have afforded to. i have an 800 vulcan classic that is the best bike ever in the world!
i sat on a thunderbird and thought about it but the sitting position is more upright than on the 500 and the 800. i like the low slung cruiser ride.
Top Contributor
Join Date: Mar 2011
Location: Prince Edward Island Canada
Posts: 1,277
I would love to upgrade to the Kawasaki Vulcan 900 Custom.A very beautiful bike.I'm addicted to black.
---
If at first you do succeed,try not to look surprised.




To view links or images in signatures your post count must be 1 or greater. You currently have 0 posts.

Senior Member
Join Date: Apr 2011
Location: Brandywine, WV
Posts: 308
I wouldn't consider it an upgrade, but an addition so that I would haul more when I needed to and continue to ride in the snow/ice.
Ural Patrol with 2wd and reverse gear (maximum speed of 65mph, lol):
---
To view links or images in signatures your post count must be 1 or greater. You currently have 0 posts.
Posting Rules

You may not post new threads

You may not post replies

You may not post attachments

You may not edit your posts

---

HTML code is Off

---