Senior Member
Join Date: Jan 2009
Location: Winnipeg, Manitoba
Posts: 170
Has anyone tried the Ultimate Seat
---
Last year I did a 5000 km (3100 miles) trip on the Kawasaki Gel Seat for my 900LT and found that I could only get an hour and a bit at first and was lucky if I got 3/4 of an hour near the end of the trip before my tailbone and a$$ was killing me. I have just completed a 4100 km (2600 miles) trip on the Mustang Wide Touring Seat and found the same thing.
Has anyone tried the Ultimate Seat (
http://www.ultimateseats.ca/
). I noticed they have a 14 day money back warranty so this might be the next seat to try.
I understand that everyones butt is different, however any comments would be appreciated.
---
It is easier to ask forgiveness than it is to ask for permission

Cheers,

Crooksie
2006 900LT (Black & Red)
Winnipeg, Manitoba
Senior Member
Join Date: Apr 2010
Location: Bad Axe, Michigan
Posts: 272
ultimate seat
---
Thanks for the link, checked it out, they are very pricey. They all seem to tell you they are better than the rest though! Most mustang seat owners all say they are wonder seats and your butt never gets sore riding on one? Looking at the saddlemen explorer too on my end. Hard to decide since no one has one in my area and no dealers carry them either to sample before buying?
---
2009 Black Classic

Mustang Seat w/Backrest
Cobra Standard Backrest with Luggage Rack
Smoke Slipstreamer Windshield
Lindby Multibar Engine Guards
Homemade Lowers
Wally World Running Lights
Stebel Air Horn
Vista Cruise Control
Scootworks Front OD Pulley
Stage 2 Debaffle Stock Pipes
170/80/15 Pirelli Rear Tire
Kury Run/Turn/Brake module
Crooksie -

I have not used that seat. I went with the Russel Day-long seat, and I should be getting that back in a week.

gmer140 -
I bought a saddlemens explorer seat last year. And most of last year, it felt a whole lot better than the OEM. This year however, I think it has broken down and now is in the same category as the stock seat. I am ~300lbs, and ride daily commute of 135 miles. YMMV.
I haven't had any experiece with the Ultimate saddles but I've see a few good review though. Also seen a few good reviews of the Russel Day long saddles as well. You won't find many reviews because of the price tag both of these carry. Of course, what they say may not apply to you because every butt has a mind of its own. Having said that I had a good experience with the Corbin Young Guns but had to sell it because I ride 2up very often and the young guns rear section is not really made for touring. I choosed this one over the Mustang Day tripper because it was more comfy to me and in my opinion it looked better on the bike. The make one that's called a Dual Tour and there are tons of great reviews on it and of course just like everything else some unhappy ones as well. Right now I have a kawa gel for when I ride two up and because it has a big area for the passanger wife stays happy and when riding solo I put on my new Willie & Max and while a few have given it great reviews I didn't find it that great but it looks good so I'm keeping it for a while. So far the most comfortable to me has been the Corbin. If I ever find a used ultimate, russell, corbin touring style saddles I will give it a shot to replace the gel i currently have.
---

Gitty Up & Go!
2007 VN 900 Custom modifications:
Corbin Young Guns Saddle*OEM Classic Gel Flame Saddle (when 2up)*OEM Light Bar*National Cycles Shield*OEM Ribbed Handlebar Grips*OEM Classic Rear Fender*PC III*V&H SCS Pipes (Modified)*Comet Milled BAK*Engine Guard*Genmar Risers*Clear Alternatives Integrated Tail Light*Kury Magnum Plus Mirrors*Kury Cruise Control*Upgraded Horn*Metzler 90/90/21*Avon Venom 200/70/15*Both SW Pulleys.
Quote:
Originally Posted by
Lost Californian
View Post
Crooksie -

I have not used that seat. I went with the Russel Day-long seat, and I should be getting that back in a week.
Excellent choice. I've been on a Russel since last October and love it (9000+ miles later). I only use the Driver's Backrest on longer trips.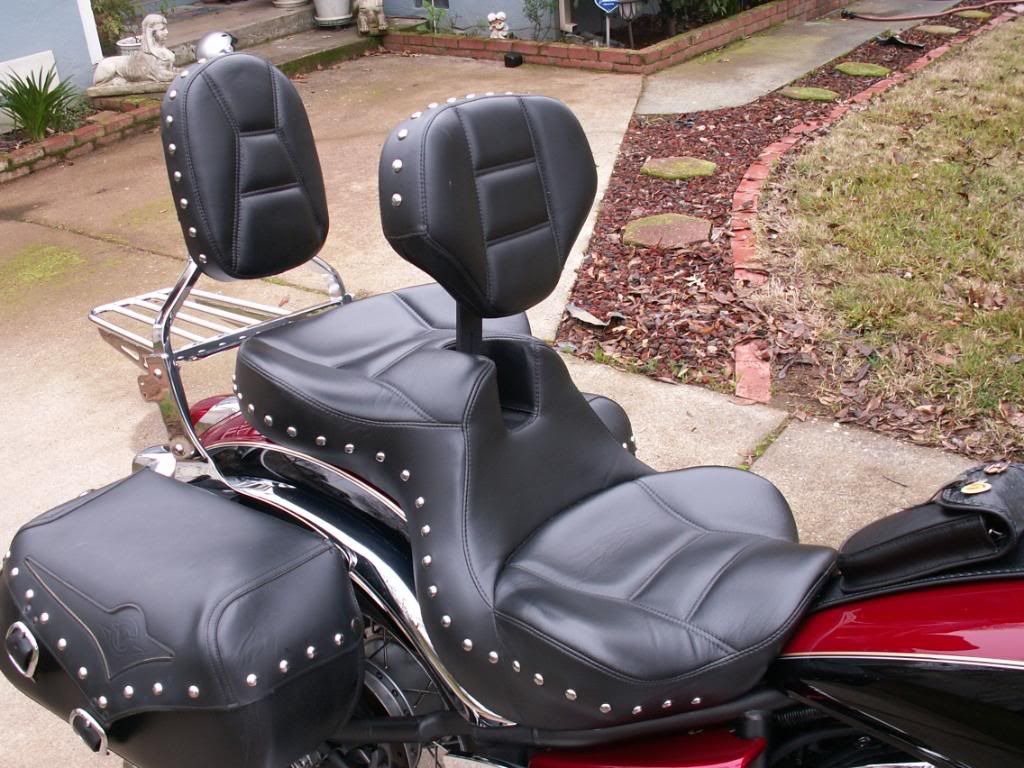 ---
Mark...Rollingbones
2011 Harley Road King FLHR
To view links or images in signatures your post count must be 1 or greater. You currently have 0 posts.

2008 Vulcan 900 Classic (Sold)
American Legion Riders Post 383
Patriot Guard Riders
Sacramento Metro Fire CERT
West Fair Oaks Neighborhood Watch
________________________________
Ride Long and Prosper!!!
I have the Corbin Dual Tourer on my 2010 SE, just over 500 miles since I put it on. With the stock seat 30-35mins and my butt was looking for relief, now 2hrs plus is no problem. Keep in mind Corbin says it takes 2000 miles before the seat is truly broken-in.
---
2016 Indian Dark Horse Chief w/Distressed tan leather
2010 VN 900 Custom SE Tourer
F&S SE Back Rest w/3" extensions
Roadkrome Sturgis Hardbags
Corbin Dual Tourer
Turn Signals w/Smoke Covers
Genmar Risers
Black Mirrors
Black 09 SE Pipes Stage 2 De-baffle
Blacked-Out Handlebar Controls
2008 HD FLH Fairing w/stereo and 6in shield
CC Crash Bar Black
Passenger and driver Floor Boards (Chrome)
Pirelli 200 Rear&90/90 Front
USCG
CWO
(Ret)
To view links or images in signatures your post count must be 1 or greater. You currently have 0 posts.
I have a corbin with the back rest incert and I love it. Did two hours stright on it this weekend without a sore tush. Never had a bike with a back rest for the driver, it's great.
BT
I also went with the Day-Long. It was pricey but I love my seat and really can ride all day without issue. As a side note, I also decided to get the drivers backrest and am glad I did. The seat is a huge improvement
---
Nimoy
Posting Rules

You may not post new threads

You may not post replies

You may not post attachments

You may not edit your posts

---

HTML code is Off

---