license plate frame
---
Looking to replace my stock license plate holder with a chrome frame. The question is, what do you do with the inspection sticker? All the chrome plates i have found do not have a place for the inspection sticker. I hate the stock plastic piece and it has to go. Any thoughts would be great.
---
Slow down and enjoy the ride


06 vulcan 900 classic
Ocean metallic blue
complete debaffeld oem exhaust
slipstreamer windshield
mc enterprise sissybar
cobra rear floorboards
Join Date: Oct 2009
Posts: 30
I did a bit of research on that too and apparently in Texas it needs to be visible from the back. Not sure how strict they are on that. But I saw a few websites that sell a little chrome square to put your sticker on. Here is an example:
http://www.motoleather.com/62-1050.html
Maybe it can be bent or oriented to not be as visible. I read that others put theirs on the swing arm. Part of me just wants to cut it out of the plastic thing and put it under the seat. But that little chrome inspection holder looks pretty cool.
Top Contributor
Join Date: Nov 2008
Location: New York State, midway from NYC to Plattsburg
Posts: 600
Here in New York the insp. sticker usually goes on the fork but I made a plate for it instead out of 1/8" aluminum and mounted it near the clutch pedal. So far, so good............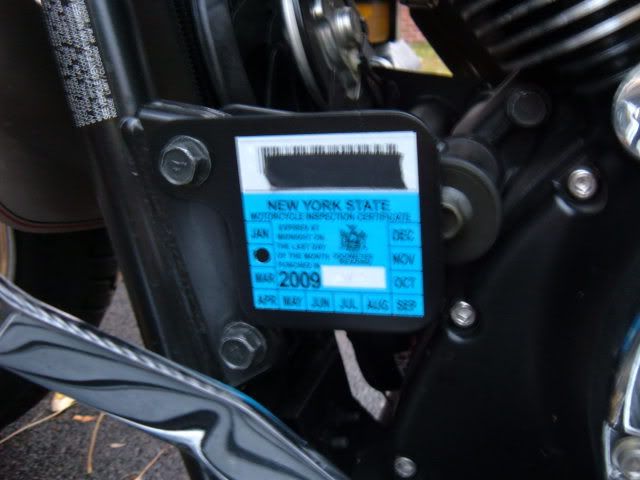 Posting Rules

You may not post new threads

You may not post replies

You may not post attachments

You may not edit your posts

---

HTML code is Off

---