Home Done quick release back rest and again repositioned lights
---
Okay been hitting it hard lately but got out finally hit 71 and Sunny right now
So the 2013 version of my bike is pretty well done. Got to find some Chrome side fender strut covers, found some on Ebay but seeing if there are others.
Anyhow, after looking at the $200 + Bracket ONLY kits for quick release back rest(sissy bars) I decide heck I can do that and do it better
Anyhow here are a few pics, actually like mine better because I feel I used the law of physics into mind when deciding how to cut. Now mind you the cuts are now cleaned up what you see is a bit of rough/raw before I finished. Now I can go with or without backrest, saddle bags within 4 minutes.
bracket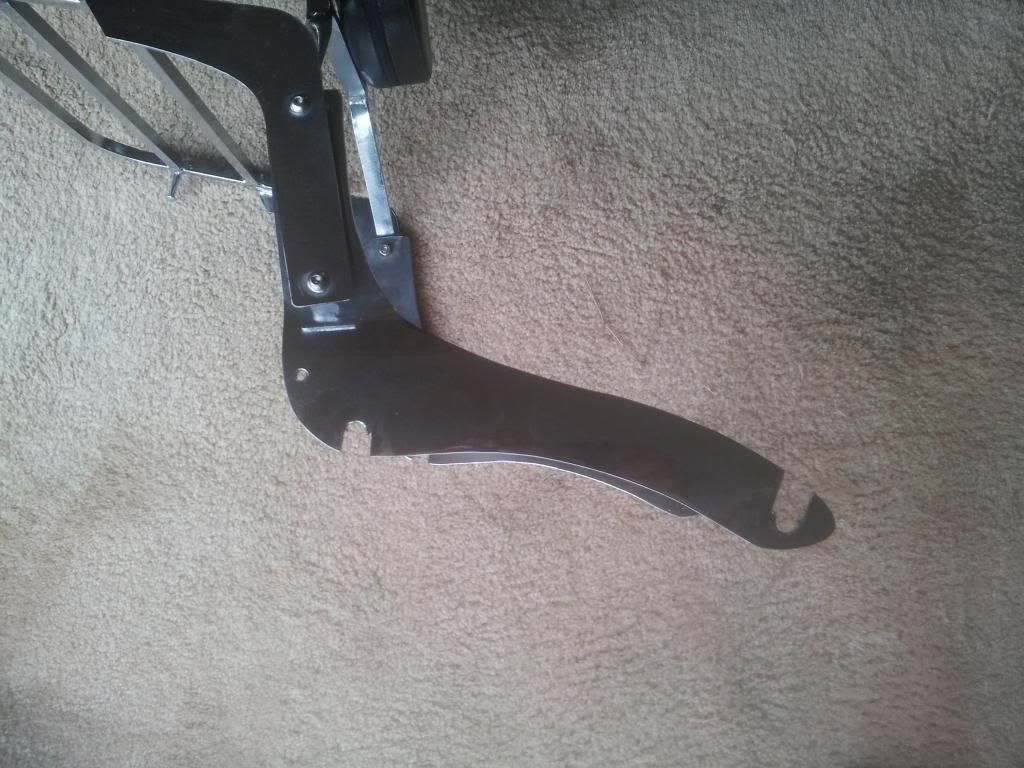 backrest on bike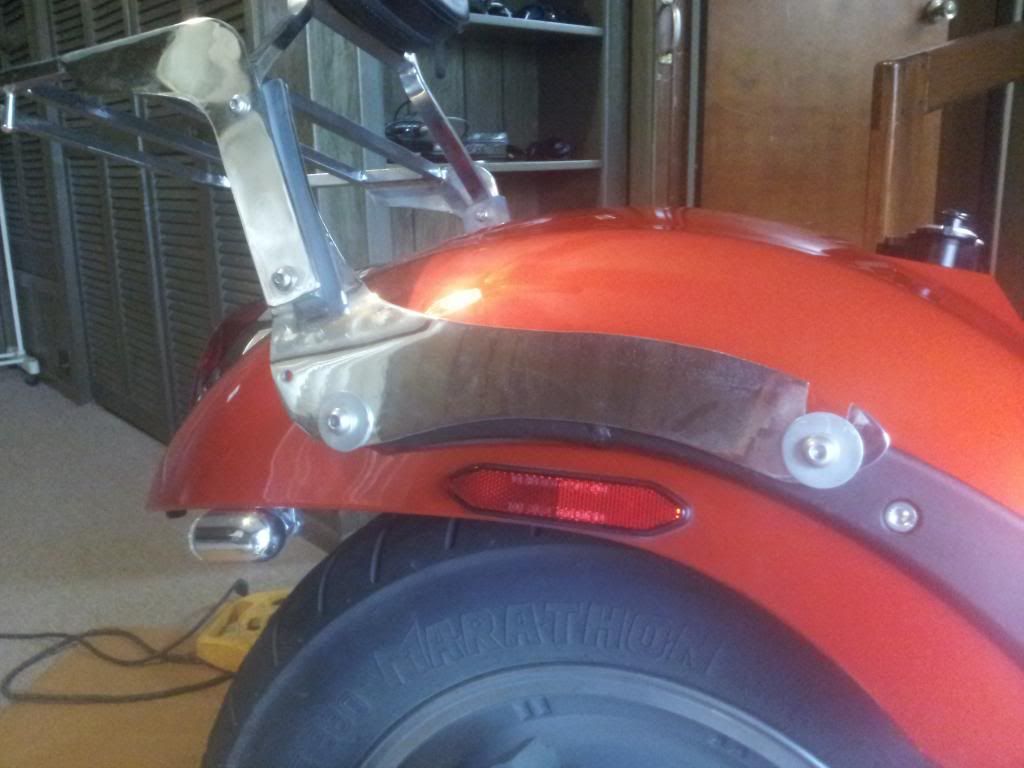 final clean look no bags, or back rest notice new position for LED lights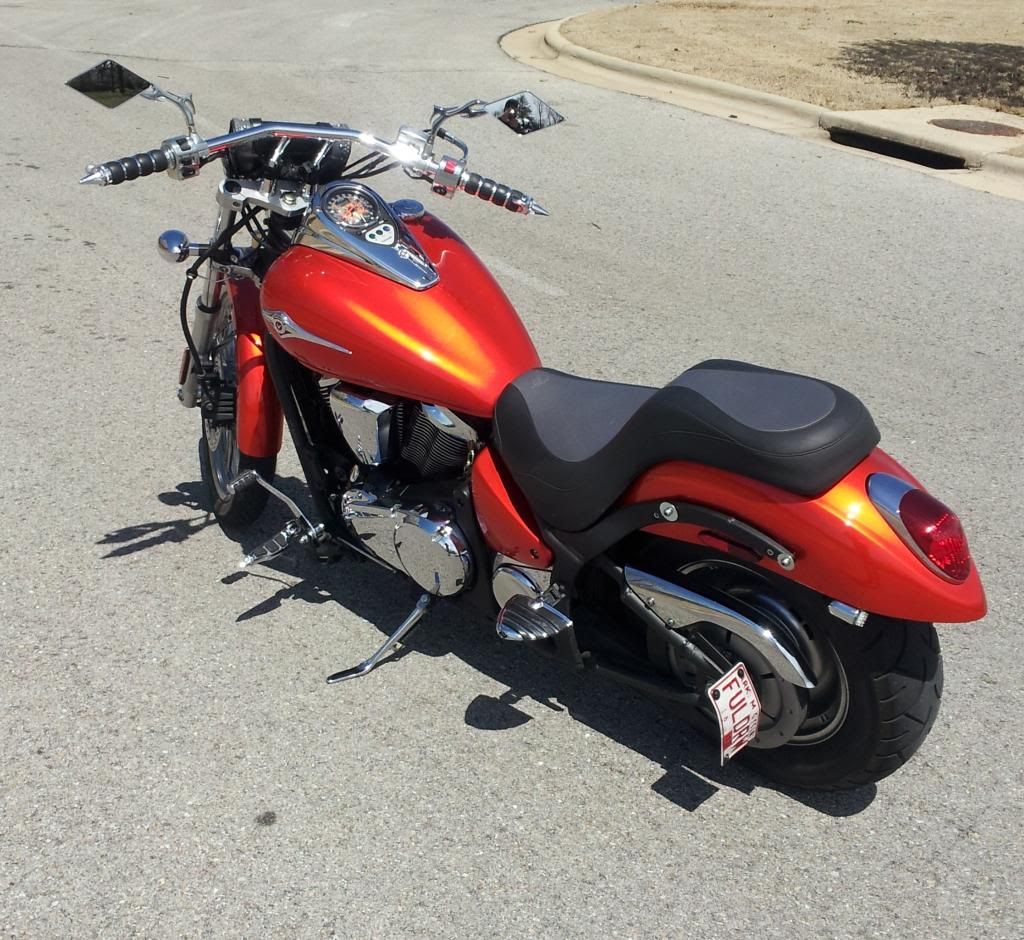 ---
Tires Down!!!
2009 Vulcan 900 Custom
Mustang Day Tripper w/upgrade insert
Cobra Swept Exhaust
Kuryakyn ISO Grips with throttle boss and Stiletto Ends
Kuryakyn Stiletto footpegs front, ISO Wings Rear
Irate Flame grill and regulator cover
Xelement Saddlebags and Tool Bag
Aftermarket Flame Mirrors
Custom Speedo Dial (R.I.P. w/respect to the creator)
Adjure 7" Ventura Flame with Skull lens
Barron 2" lowering kit, GenMar 2" Risers
Cobra FI2000r 2-2-1
Thunder MFG Tornado Intake
Top Contributor
Join Date: Apr 2010
Location: Manchester, NY
Year/Make/Model: 2017 Vaquero ABS
Displacement/CC's: 1700 cc
Color: Candy Cardinal Red
Gender: Male
Posts: 1,255
arkansasbowman, Nice work. I've never actually looked at the Q-R setups, but this is pretty much what I pictured. Do you have plans for Q-R bags as well or are you using throw-overs?
using X element throw overs saddlebags. they can be seen a little in my avator
---
Tires Down!!!
2009 Vulcan 900 Custom
Mustang Day Tripper w/upgrade insert
Cobra Swept Exhaust
Kuryakyn ISO Grips with throttle boss and Stiletto Ends
Kuryakyn Stiletto footpegs front, ISO Wings Rear
Irate Flame grill and regulator cover
Xelement Saddlebags and Tool Bag
Aftermarket Flame Mirrors
Custom Speedo Dial (R.I.P. w/respect to the creator)
Adjure 7" Ventura Flame with Skull lens
Barron 2" lowering kit, GenMar 2" Risers
Cobra FI2000r 2-2-1
Thunder MFG Tornado Intake
Posting Rules

You may not post new threads

You may not post replies

You may not post attachments

You may not edit your posts

---

HTML code is Off

---