Member
Join Date: Aug 2009
Location: Nor-Cal
Posts: 89
Seat Question
---
As we all know our stock seats are junk, especially being a tall guy it hurts & the lady doesn't last that long. I have looked at different after market seats (I like the Mustang) but they can be expensive. I rode my buddys Vulcan2000 & VTX1800 and the seat was really comfortable, sooo the question is, will a stock 1500,1700,2k fit on our bikes?
---
06' 900 Classic LT
Nope!!! The quest for a comfortable seat is a lonely and potentually expensive journey. Welcome to our world and welcome to the forum...
---
Mark...Rollingbones
2011 Harley Road King FLHR
To view links or images in signatures your post count must be 1 or greater. You currently have 0 posts.

2008 Vulcan 900 Classic (Sold)
American Legion Riders Post 383
Patriot Guard Riders
Sacramento Metro Fire CERT
West Fair Oaks Neighborhood Watch
________________________________
Ride Long and Prosper!!!
---
Last edited by Rollingbones; 08-10-2009 at

12:39 PM

.
Senior Member
Join Date: Sep 2008
Location: Huntington, WV
Posts: 249
Yea, if you do a search you'll see all of the discussion here on seats. There is no "right" answer to your question. You can spend thousands of dollars trying to find the right seat and still only come out with minimal success ... if that. My advice, get a seat cushion from Wal-mart and take plenty of breaks when you ride. Otherwise save your money for chrome goodies.
I took mine to a custom upholstery shop that does a lot of motorcycle seats. I told him what I wanted (more dish, back, cushion, added a little back to move me up 1/2") and he used the stock seat reshaped plus other various padding (layers) and recovered the seat with better material for $150.00.. and did it in a day. It has been awesome... very comfortable.. rode an hour and a half day after getting it back and only needed to stop for food & gas. I don't what you have around you, but it may be an option. $600 was way too high for me, and the stock seat definitely needed to go.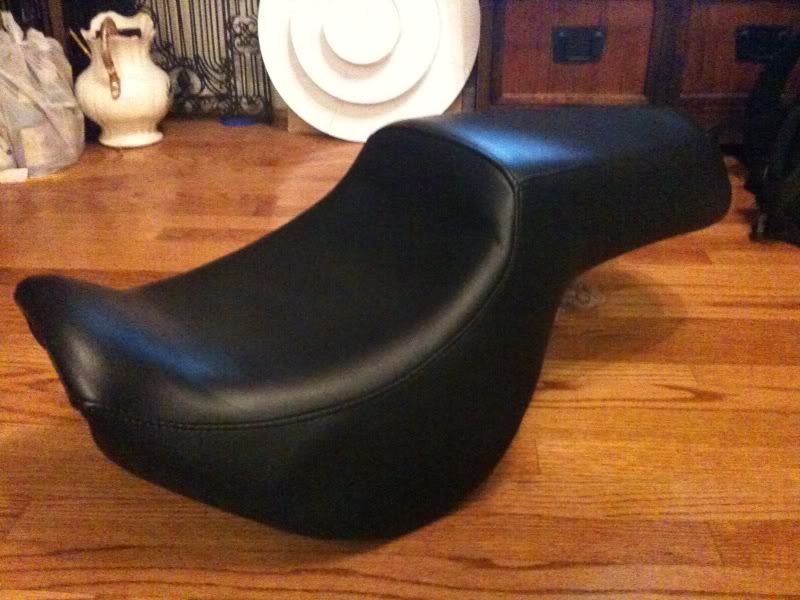 If you are around Houston: Kingwood Custom Upholstery in Porter, TX
---
2008 900 Classic (Metallic Diablo)
Member
Join Date: Jun 2009
Posts: 84
check these guys out:
http://meancitycycles.com/motorcycle...ifications.php
my seat is currently at their shop being worked on.....i'm doing the Memory foam modification that should make a world of difference, once i have my seat back i'll let you guys know......that mod is only $100 plus shipping - sure beats $400 - $600 for a new seat.
---
Darkside 2008 Vulcan 900 Custom debadged
Metallic Diablo Black
HK 2 into 1 Sideburner
Baron's BAK
Cobra fi2000r EFI Tuner
Cobra Short Sissybar
Scootworks Front Pulley
GenMar Risers
Junior Member
Join Date: Mar 2009
Location: Georgetown SC
Posts: 20
I think im gonna use meancitycycles as well when the riding seasons over. hate two lose 2 weeks of prime riding weather
Junior Member
Join Date: Apr 2009
Posts: 23
i just did about 1300 miles in 4 days (430mi on 2 days) on my SE and the factory seat wasnt the greatest but i made it through it. Hours 5-7 seemed the most troubling.

I guess i am stupid on this subject but everyone is built different so how do you find a good saddle without trying a bunch of them? I am an average build of 6' and 190lbs so the stock seat isnt that bad but there were times when i was wishing i had something else.
Member
Join Date: May 2009
Location: New York
Posts: 72
check out the airhawk cushion
---
08 900 classic
Member
Join Date: Aug 2009
Location: Nor-Cal
Posts: 89
Should get my Mustang on Wed.!!
---
06' 900 Classic LT
Member
Join Date: Oct 2008
Location: Wilber Twp. Mi.
Posts: 32
Seat Question
---
It looks like the Mustang seat will move you down and back a little based on their web site's pictures. Let us know how you like it. Does it bring you up or is it about the same? I don't want to spend $ 400 if it won't make my ride more comfortable. The stock seat's height is okay for me, and the comfort level is okay for an hour or two, then it gets a little numbing.
---
Last edited by Tawas Bob; 08-28-2009 at

07:20 PM

.
Posting Rules

You may not post new threads

You may not post replies

You may not post attachments

You may not edit your posts

---

HTML code is Off

---