Senior Member
Join Date: Sep 2010
Posts: 165
Vulcan 900 Custom OEM Windshields
---
Hi,
Hate to start another windshield post but I am trying to decide whether to go with the Cafe or the Short Kawasaki OEM windshield. Does the Cafe keep enough wind pressure off the chest or is it only good for looks? Kawasaki online description says the Cafe is 18" wide but does not say how tall. If anyone has a picture of the OEM Short Windshield on their 900 Custom it would be greatly appreciated.
Like others I don't want to alter the cool custom look. I also saw that Kawa has a touring Shield. Pics of that would also be appreciated. The Kawa site does not have great pics.
Thanks,
---
Last edited by VulcanJohn; 01-17-2012 at

08:37 AM

. Reason: New question
I have owned both and at the end of the day I ended up selling them. The Cafe looks cool but worthless. Takes the air of your chest but puts it right in your face. The OEM short works a little better but still places the air right on your upper face. I ended up with a National Cycles touring shield that to be honest it doesn't look bad at all and works great.
---

Gitty Up & Go!
2007 VN 900 Custom modifications:
Corbin Young Guns Saddle*OEM Classic Gel Flame Saddle (when 2up)*OEM Light Bar*National Cycles Shield*OEM Ribbed Handlebar Grips*OEM Classic Rear Fender*PC III*V&H SCS Pipes (Modified)*Comet Milled BAK*Engine Guard*Genmar Risers*Clear Alternatives Integrated Tail Light*Kury Magnum Plus Mirrors*Kury Cruise Control*Upgraded Horn*Metzler 90/90/21*Avon Venom 200/70/15*Both SW Pulleys.
Member
Join Date: Jul 2011
Posts: 77
---
I purchased one of these about a month ago.
http://www.t-motorsports.com/19-x-17...ld-windscreen/
It is small, but it works for me and i'm 5' 10". I do get some helmet buffeting over 60 mph. I'm planning on making some lowers in the near future to see if it will help with that. I, also, have my windshield sort of layed back so as not to disrupt the lines of the custom.
Before everyone chimes in and says it's acrylic. Yes, I know that. But that can easily be replaced by lexan should the need occur. I have a friend that works for a local glass shop that said it would be no problem tracing the pattern to lexan.
I will try and put some pics up tomorrow night if you would like to see.
Member
Join Date: Jul 2011
Posts: 77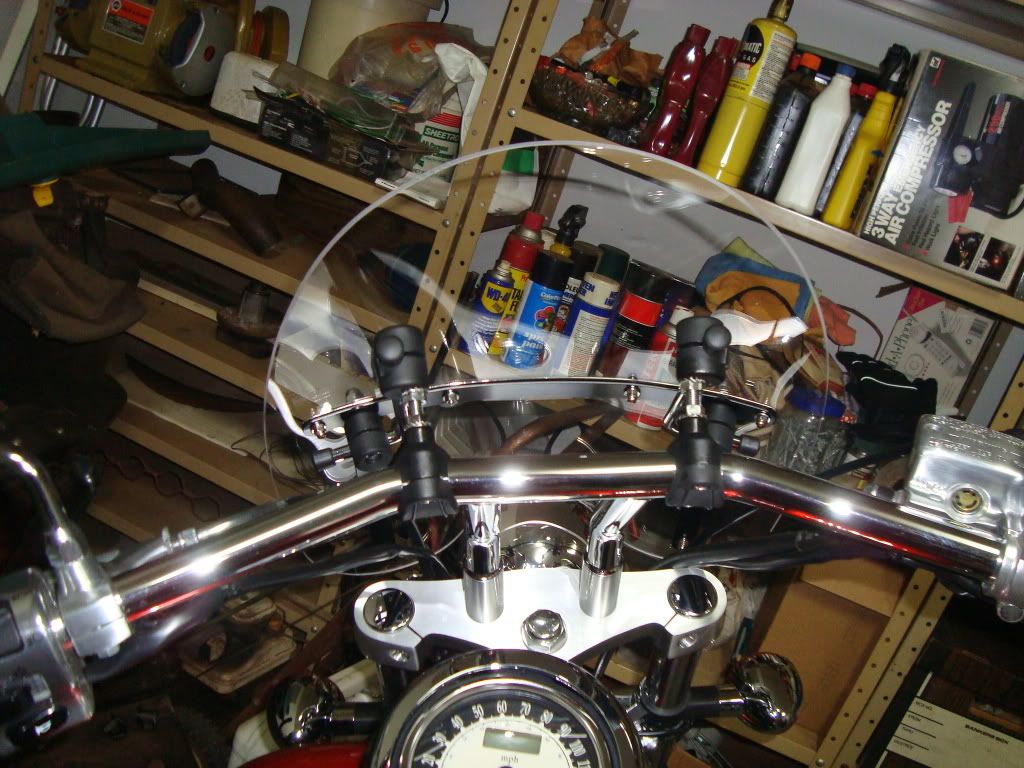 Disregard the messy garage.
Posting Rules

You may not post new threads

You may not post replies

You may not post attachments

You may not edit your posts

---

HTML code is Off

---