Junior Member
Join Date: Dec 2011
Posts: 20
Anyone running Highway Hawk short shots?
---
Im considering these pipes for my bike, any ideas on how loud they are?
Also as a second thought - would they affect a passengers hearing worse as they seem to be in front of where they would sit?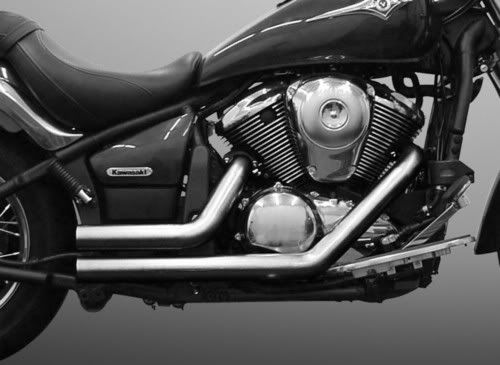 I think they would be as loud as hell for both the rider and passenger .... I would also suggest that after market baffels might not fit if you find them way to loud, the pipes look kinda short to add any after the fact. Ear plugs might work though.
---
As i flipped into 5th, i couldnt remember a damn thing she said
To view links or images in signatures your post count must be 1 or greater. You currently have 0 posts.


2009 Classic LT Bagger ... SOLD .... ... Batwing Fairing, Metzler 200 rear, Mutazu Hard Bags, Denray Hitch, Mustang Seat, Piggybacker Trailer. traded on a Versys 650 LT ... Loaded

2010 Custom [I] ... traded on a 2015 Ninja 650 Abs traded on a 2016 Versys 650 LT ... Loaded
i think you will loose power and torque with those pipes big time.... would probably be great for a bike with MAJOR engine mods in drag racing....
Junior Member
Join Date: Dec 2011
Posts: 20
Yeah, I dont think mrs DUB would be too pleased.

The HH fat pipes are lookin good - I want straight pipes and the V+H ones seems to have an apparent outer skin which I dont like.
Senior Member
Join Date: Apr 2010
Location: Seattle area
Posts: 427
Not only would it be loud for you, and very loud for your passenger, but you'd both likely reek of exhaust at the end of a ride, particularly one with lots of stops and starts.
---
( Used to have: )
'08 Vulcan 900 Custom:
*Passion Red *Mustang One-Piece Vintage Seat
*Hard-Krome 2.5" Strippers with Smartpartz Hard Kore Baffles
*Cobra Short Sissybar, Pad & Insert *Leatherworks 312 Chopper Bag *Small/Med. Windshield

Posting Rules

You may not post new threads

You may not post replies

You may not post attachments

You may not edit your posts

---

HTML code is Off

---