Junior Member
Join Date: Feb 2011
Posts: 17
Highway Bar Recommendations?
---
Can anyone recommend a quality set of highway bars for a 900 Classic? Not wanting anything to bulky or pricey. Something that will "match" the classic look of the bike.
I like my Cobra Freeway bar... looks sharp on the bike and fits the classic design. Of course, you can always go with the Kawasaki OEM highway bars if you want something guaranteed to fit the style of the bike.

Highway bars MAY protect your engine in a laydown, but any manufacturer will disclaim that. Instead, highway bars are really made as a place to mount highway pegs. So you should be thinking about the pegs you want when you think about the bar.

Also, to take care of both... Lindby makes a multibar that is a highway bar with a footrest built right into the design. Lots of 900 owners on the forum have them and they look sharp!
---
Joel Anderson
To view links or images in signatures your post count must be 1 or greater. You currently have 0 posts.

'08 Vulcan 1600 Nomad - Candy Fire Red/Metallic Diablo Black

Cobra True Duals Billet-Tip exhaust
UniqCycle Sounds mp3 speakers and amp
Kuryakyn lighter/power outlet
Kuryakyn ISO grips and hwy pegs
Cobra luggage rack
windshield bag
tank bib

Patriot Guard Rider
Shadow Riders of St. Louis
VBA #01926
VROC #34332
Top Contributor
Join Date: Jan 2009
Location: Redmond, Oregon
Posts: 1,611
cobra........
---
2009 V2K / Vietnam Vet / PGR rider
Top Contributor
Join Date: Nov 2008
Location: New York State, midway from NYC to Plattsburg
Posts: 600
MCE here......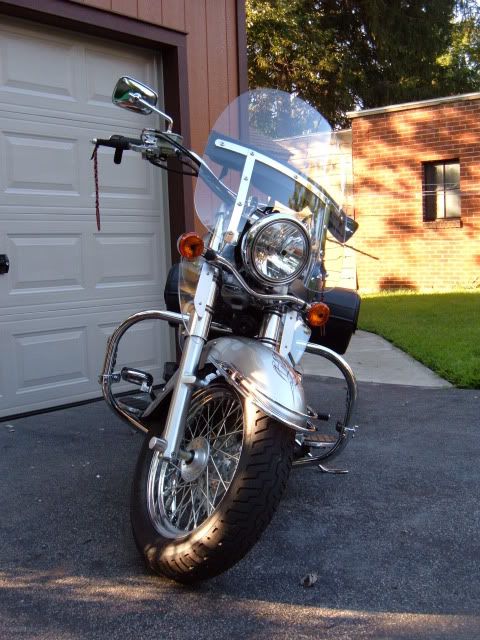 Top Contributor
Join Date: Apr 2010
Location: long island, ny
Posts: 658
another vote for the cobra. I have one on my custom and my brother has one on his classic.
---
-Vinny VROC #32287 - 2007 Vulcan 900 Custom, Ness Big Sucker, Fi2000R, Cobra 2-into-1

The things that may or may not be true are the things a man needs to believe in the most. People are good; honor, courage, virtue mean everything; power and money mean nothing; good always triumphs over evil; true love never dies. A man should believe in those things, because they are worth believing in.
Top Contributor
Join Date: Jan 2011
Location: Twin Falls, ID
Posts: 1,068
+1 on the Cobra. It just looks natural on the bike. Got mine on Ebay for $167.50 with free shipping!
---
OURS
2011 Victory Cross Roads, crimson red

"There is only one God, and His name is Death. And there is only one thing we say to Death: 'not today.'"
I have the Cobra. See pics. Oh yeah, they work well to. I mean the keeping the bike off the ground part. Had an unfortunate situation involving the back of a Chevy truck and some blacktop over a year ago now. And the bars held up well. Actually sold them to a guy wanting to powder coat them so he didn't mind a few scuffs.
---
'07 VN900 Classic
Horsepower is an illusion.
Torque is the source of all good things.
Cobra, they look good, are a good price and they fit w/easy installation.
---
08' Vulcan 900 LT
Cobra Hwy Bars
Mustang Beaded Seat
Seibel Horn
Cobra 2 in 1 HP Pipes
Junior Member
Join Date: Feb 2011
Posts: 17
Thanks for the feedback everyone! You people rock!
Here's the OEM.
---
2009 Vulcan 900LT Red/Titanium


OEM Passenger boards
OEM Windshield Bag
OEM Engine Guard
Windshield Lowers
Phat II risers
Cobra Lightbar
Cobra Luggage Rack
Kury Triple Wammy
Mustang Seat and passenger backrest

---
Last edited by oquirrhvulcan; 02-28-2011 at

03:24 PM

.
Posting Rules

You may not post new threads

You may not post replies

You may not post attachments

You may not edit your posts

---

HTML code is Off

---