What exactly defines a bobber?
---
I was out riding through the park today where I stopped and talked to a guy who was riding a an old Yamaha. He said his bike was a bobber now because he had cut off about 6 inches of the rear fender and mounted a side tail light and license plate. I didn't comment other than the normal pleasantries.
My query is, what makes a motorcycle a bobber? I was always under the impression a key factor was that the rear fender was modified and hugged the tire closely, and it was mounted to the swing arm so it "bobbed" up and down with the wheel. I've seen on the web where some are just painting their bikes flat black and calling them bobbers. Plus you would need to remount the seat or change it all together so it is mounted to the frame since the fender support is gone.
I've consider the bobber factor for my 1600 but I don't think I could get up the nerve to cut away the fender mounts from the frame. It just seems so final. I don't think the style of the 1500 or 1600 lends itself to a cool looking bobber. I think the best bobbers are the softail style with no shocks interrupting the flow of the bikes lines. To me, these styles of bikes are the nicest looking, the way the frame curves down and flows right into the swing arm, like the VN900 or VN800.
Any comments?
Incidently I came across this pic on the web of a 900 bobber. I like! I think the 900 has great lines and is a very balanced looking bike.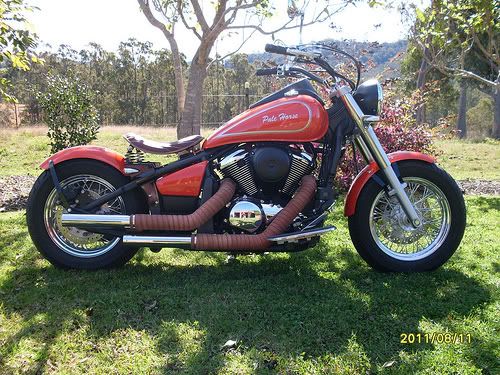 ---
Randall

2006 Vulcan 1600 Classic
2003 Vulcan 1500 Classic
---
Last edited by Vegas Vulcan; 12-01-2012 at

12:56 AM

.
Top Contributor
Join Date: Aug 2011
Location: Missouri
Year/Make/Model: 2014 Kawasaki Vulcan Vaquero ABS SE
Displacement/CC's: 1700
Color: Orange SE
Gender: Male
Posts: 7,593
I think it's all relative. To me? A bobber is like a chopper, in that it has had all of the stuff 'removed' (chopped/bobbed) to lean it up a bit. But what seperates, in my mind, a bobber and a chopper in the sense of what you see today, is that a bobber pretty much only takes stuff off, it doesn't really put anything new on. A chopper, in my mind, is full of new stuff. Remove the fender and put a new one on, instead of cutting the old one. Ape hangars, big chrome rims, etc.

Of course, to others, that same bike is a 'bobber' that I called a 'chopper' and vice versa.

6 in one hand. Half a dozen in the other!
---
"8 But God demonstrates his own love for us in this: While we were still sinners, Christ died for us."

Romans 5:8 (NIV)
2014 Kawasaki Vulcan 1700 Vaquero ABS SE
iPod Connector Kit, Kuryakyn Highway Pegs, Mustang Touring Seat, Marvella's Hitch, Kuryakyn Trailer Wiring Kit, Haul-Master Tag-a-Long Cargo Trailer


2011 Honda Shadow Aero 750 (Wife's)

Memphis shades quick-release windshield, OEM Solo Seat, Mustang Fender Bib, Chrome Solo Luggage Rack


Past: 2006 Vulcan 900 Classic LT
Member
Join Date: Sep 2011
Posts: 33
I don't know about choppers... But for me bobber is following a certain philosophy when modifying your bike: remove anything that does not serve a purpose in moving the bike faster.
As such, when bobbing, it is typical to see removal or one or more fender, chain guard, etc. less weight--> faster.
Sent from my iPhone using
Motorcycle.com App
---
2010 vn900c se
Riding in foggy/rainy San Fransciso
Member
Join Date: Sep 2011
Posts: 33
One more thing, historically the term Bobber came from act of bobbing (cutting)the rear fender... I read somewhere.
Sent from my iPhone using
Motorcycle.com App
---
2010 vn900c se
Riding in foggy/rainy San Fransciso
Senior Member
Join Date: Nov 2012
Posts: 133
http://wichita.craigslist.org/mcy/3434225444.html
I like some bobbers, but not all. I found this one some silly person destroyed a gixxer to make. I would have to ride with a paper bag over my head so people couldn't see me riding it, and thought you all might get a good laugh too.
Sent from my M865 using Motorcycle.com Free App
Posting Rules

You may not post new threads

You may not post replies

You may not post attachments

You may not edit your posts

---

HTML code is Off

---