Senior Member
Join Date: Apr 2010
Location: Gastonia, NC, west of Charlotte.
Posts: 276
Looking for Lowers for 500
---
I don't find any lowers on the internet for the 2001 Vulcan 500....If
anyone knows of a particular type that works on the 500, please let me know and if you have the part number and brand name, so much the better...

Thank you.

bob
cBob, me again with another incomplete answer. I've never heard anyone brag that they bought a lower that would fit, but several folks have claimed to fabricate them successfully. Because of the way our forks are designed the attachment point is necessarily a narrow space, but if you search you will find photos of folks who have managed to do it. I may be in the line to fabricate some this fall as well as some chaps for my hwy/engine bars. Its beginning to get cold in New Mexico in the mornings. Good luck with the search. Tom
---
Tom, New Mexico. Just trying to have me some fun.
2006 Kawasaki VN500
2002 Yamaha TW200
Senior Member
Join Date: Apr 2010
Location: Gastonia, NC, west of Charlotte.
Posts: 276
thank you
---
Peruano,
thanks for your comment...I found a very complete tutorial with many photos about making making lowers for the Vulc 900 when I searched on "risers" (after posting my original question).....I figure it would be easy to use that as a guide for working on the lowers for the 2001 500....

At the moment, I am looking at a windshield that would be along the lines of
the slipstreamer Vision or the Slipstreamer Enterprise II.....both look great...From the photos it looks like with one of these windshields it might likely not be necessary to have lowers as the shield goes down to the turn singnals and quite wide, especially on the enterprise II..

Am curious though. Do you intend to fab stuff for sale????

Regards,

Bob
Top Contributor
Join Date: Sep 2012
Location: Louisville, KY
Posts: 607
I'm also interested in lowers for my 500, but like you, haven't had much luck. Please post back if you find anything.
---
2006 Vulcan 500 LTD
2013 Suzuki V-Strom 650 ABS Adventure
Senior Member
Join Date: Apr 2010
Location: Gastonia, NC, west of Charlotte.
Posts: 276
link to homemade lowers
---
Here is a link to a series of photos and tutorial comments on how to make one's own lowers, including where to buy the clamps..
hope this helps..
Home Made Lowers for Vulcan 900 Custom
I am also thinking of buying a slipstreamer windshield, either the Vision model or more likely the slipstreamer enterprise II model...google on those specific names and find...they fit Vulcan 500 from 96 through 09 with model specific hardware...a buddy had a Vision model and said it was terrific.
Bob
Bob, The link you have is a source of inspiration and materials, but there is a basic difference between the 500 and the 900 in the way the fork covers are positioned. Forgive my terminology, but the fat part of the fork is on the top and available for attaching the lowers bracket on the 900 but a much narrower area is available for the 500 because the fork cover is at the lower end, and must travel upward as the shock compresses. I'll admit the maximal travel is not totally to the top of the fork, but I'd sure not want a bracket interfering with the forks compressability. I'd guess one attachment point would be just above the turn signal and perhaps one other on that narrow tube that I'm trying to avoid just below the cross member of the fork. To provide more spacing an L shaped bracket could be extended down from that lower point which would provide clearance for the fork cover to move. There is at least one photo out there of someone who has done the deed on a 500 but I can't lay my hands on it for you. I'm certainly not in the position to fab anything for anyone else, - I'm just trying to solve the cold weather problems within my limited abilities. I certainly like my windshield's extensions over the hand grip area. Its a Slipstreamer Falcon 32- 16".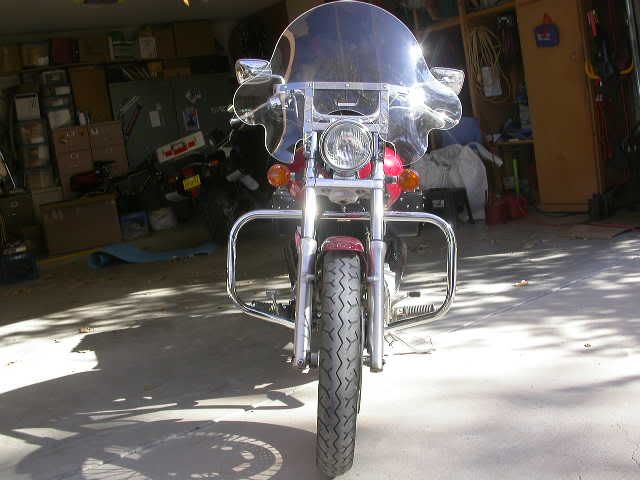 Tom
---
Tom, New Mexico. Just trying to have me some fun.
2006 Kawasaki VN500
2002 Yamaha TW200
---
Last edited by peruano; 11-13-2012 at

09:42 AM

. Reason: added info
Hello again, This thread made me start thinking about lowers again, and I think I have found something that will eliminate my worries about where to attach them. My slip streamer shield came with brackets to attach the shield to the fork tubes between the top bar (where the bar risers attach) and the lower cross bar (just below the turn signal attachment point) These brackets provide a face parallel with the longitude of the bike with three holes in it for attachment of the windshield (but they provide a logical site for attachment of a strut to hold the lowers. Having three holes they will be strong enough to take the wind force even if they are above the main area of the lower (which will be below and potentially lateral to the turn signals. I'm currently cutting out a piece of aluminum angle material that will provide the face to attach to the windshield bracket and one perpendicular to it (and transverse to the bike) to which the lower itself can be attached. This part of my bike is one of the most difficult to photograph due to windshield, reflection, and other obstacles but I'll try to append a photo of the site of attachment that I'm trying to describe. Making the lowers themselves will be no problem, its making that bracket, ensuring that it is strong enough to take the wind force and being doubly sure that it will not interfere with the shock action of the front fork that are the challenges. One bracket is nearly done so I'll know within a day or two whether the idea is worth its being considered by others.
Note the three allen headed fasteners visible through the lower windshield. These are the proposed mounting points for a bracket that could support the lowers yet to be fabricated.
Tom
---
Tom, New Mexico. Just trying to have me some fun.
2006 Kawasaki VN500
2002 Yamaha TW200
---
Last edited by peruano; 11-13-2012 at

03:27 PM

. Reason: add photo
Hi to all again, My apologies to Bob, I did not realize the example he provided the link for was the equivalent of an EN500 fitment, in part because the OP mentioned the Vulcan 900 in his 1st sentence. Hence he was fitting around the inverted fork arrangement that we have on the 500. However his windscreen is considerably shorter than mine and hence he has more space at the top. I now have a mock up of what my lower might look like (currently its made out of flimsy plastic, but it will go to clear lexan once a shape is determined. I do have a bracket to hold the lower fabricated (hell for strong because that's the metal I had at hand) and it may need to be trimmed at the lower end to maximize clearance with the fork cover tube. Here's a photo.
Note the aluminum angle "iron" visible above the white mock up lower. It extends down (perhaps further than needed) to support the attachment of the lower shield. Clearly I need to enlarge the clearance for the turn signal a bit, and round some other edges (i.e. top of aluminum bracket where marked with black marker; and most lateral edge of lower shield). The shield is tapered medially to make sure it does not contact the strut cover; and laterally to reduce sharp edges (hence it looks a bit like a pendulant breast but that was not my intent and may be obvious only to me.
I finished the lexan version (photo below) but it is extremely difficult to photograph. Hence my mockup depicts shape better. As finalized the lexan contacts the highway/engine bar when the bars are at full tilt, but the lexan flexes enough to not cause a problem.
My ride is a bit quieter now and I certainly have less airflow on my legs. Will I be toasty warm on a winter day - probably not but I'm pleased with the result and will be able to appreciate the true benefits as I ride this winter. Worth the effort. Comments? Tom
---
Tom, New Mexico. Just trying to have me some fun.
2006 Kawasaki VN500
2002 Yamaha TW200
---
Last edited by peruano; 11-24-2012 at

04:17 PM

.
Senior Member
Join Date: Apr 2010
Location: Gastonia, NC, west of Charlotte.
Posts: 276
Good work
---
Good work on the homemade lower....I especially like the aluminum angle iron..I had not thought of that.....

Thanks for post..

Bob
finished lower fabrication
---
Bob, I finished the fabrication and edited my message above. Its hard to see the lowers, but with scrutiny of the photo and comparison with the mockup you can see them. Just decided to highlight the edit to the message for future readers. Tom
---
Tom, New Mexico. Just trying to have me some fun.
2006 Kawasaki VN500
2002 Yamaha TW200
Posting Rules

You may not post new threads

You may not post replies

You may not post attachments

You may not edit your posts

---

HTML code is Off

---