Senior Member
Join Date: Feb 2012
Location: Eastern Passage, NS, Canada
Posts: 236
Quote:
I think it is cool!
this is a guy who likes to spend 20 hours a day, scrubbing
i rather do 20 hours a day riding
Senior Member
Join Date: May 2012
Location: Eugene Or.
Posts: 365
I'm amazed how much chromed plastic there is on these bikes, as well as painted plastic. How did they get the bike to weigh so much? Haha. I'm kinda torn, the chrome looks right on the Classic, but the black paint looks good too.

I worked with a guy that painted a bunch of his Moto Guzzi parts with a coarse metallic, then red candy, topped with PPG Tactile clear. The effect made the parts look like they were all anodized red. I'm half tempted to try this on some of the parts on my bike, if I had a Custom I'd definitely do it.
Senior Member
Join Date: Feb 2012
Location: Eastern Passage, NS, Canada
Posts: 236
here's where i am now with my project, since i waqs getting the bike ready for winter, i decided it was the best time to remove the rest of the stuff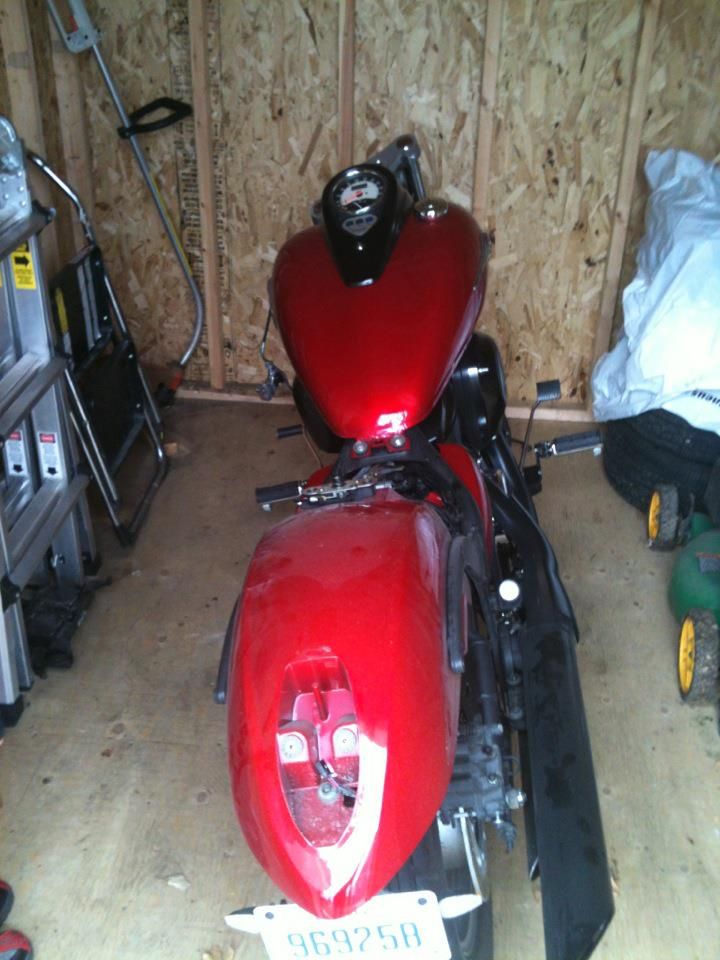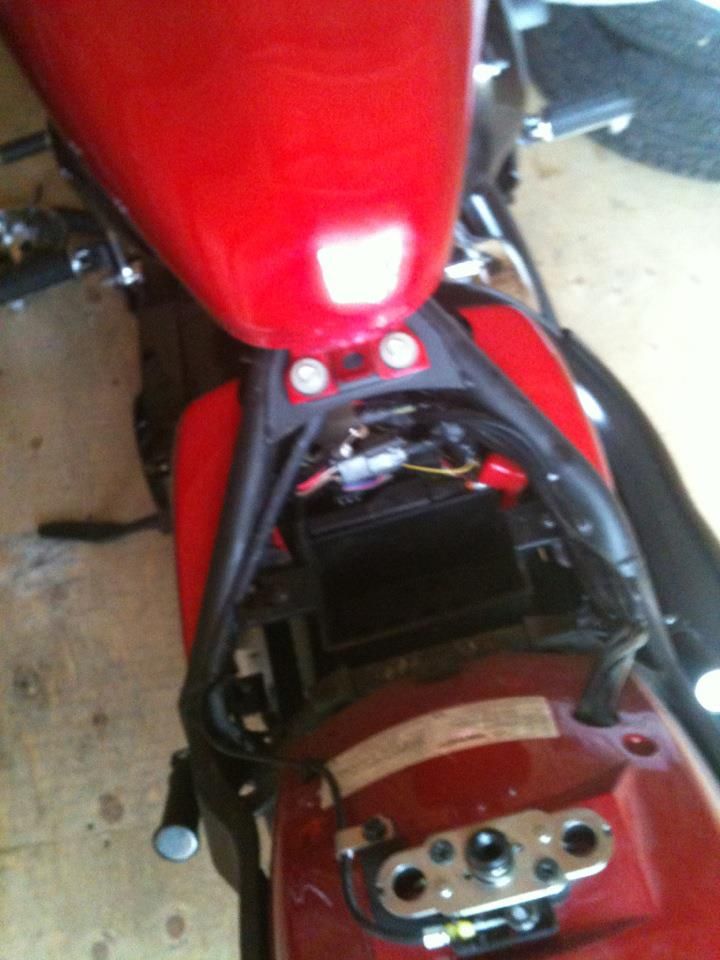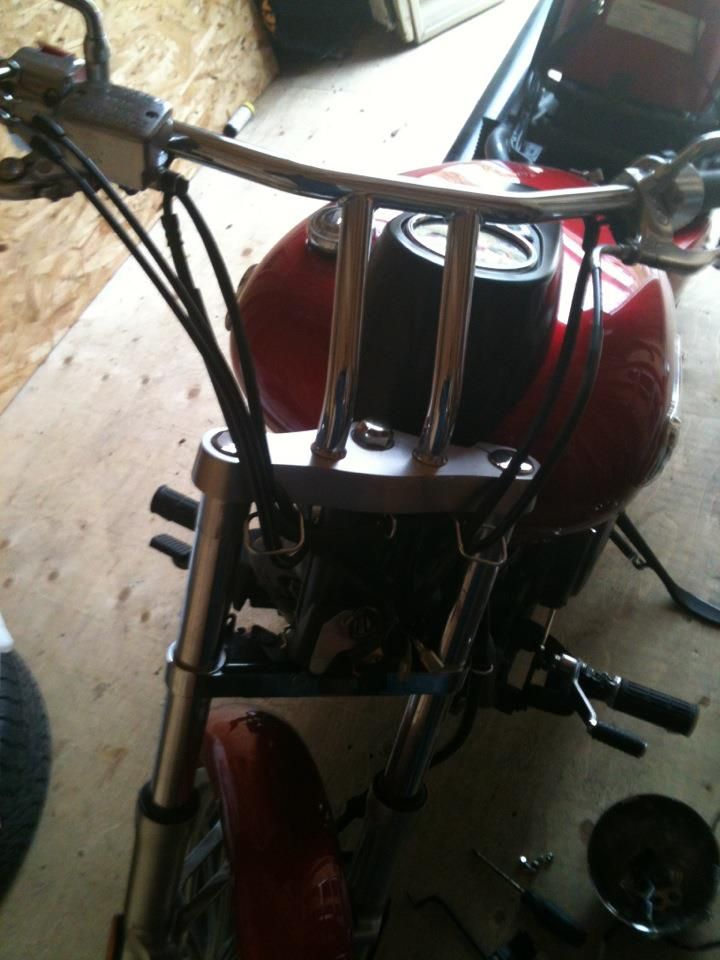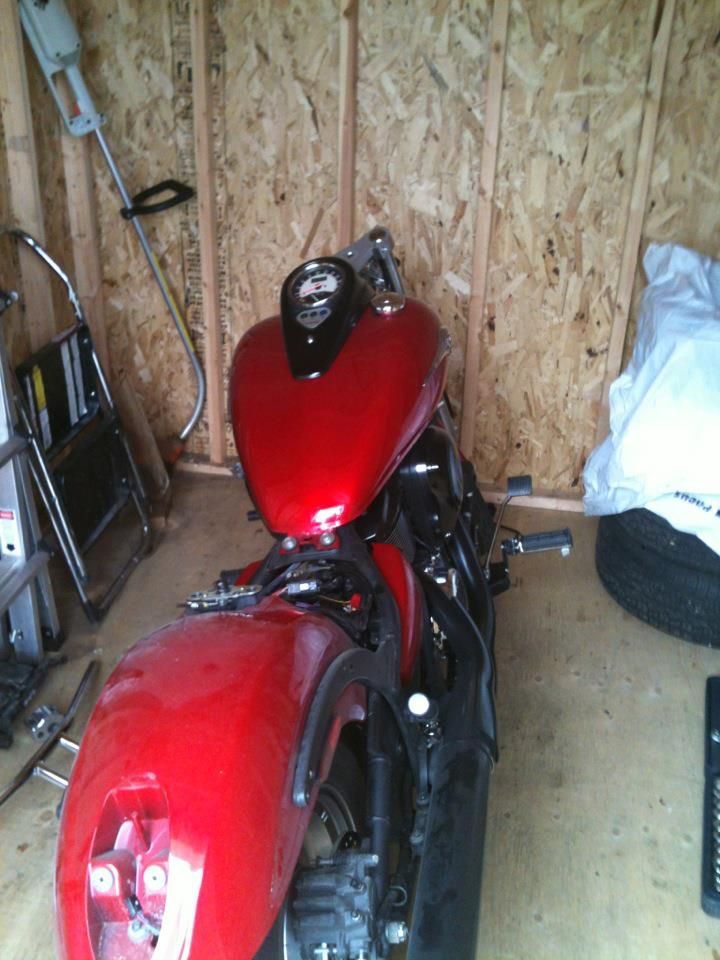 Quote:
Can't get TSP in NY, but I'll be interested in hearing how this holds up without scuffing the chrome.
I have painted chrome and other parts using regular enamel and epoxy. The regular (Rustoleum) enamel actually held up better than the epoxy. I was disappointed because the epoxy cost twice as much. I tried cleaning the chrome with alcohol first then painting. Then on some parts I scuffed up the chrome with 600 grit. The chrome that I didn't scuff, with heavy use, began to come off. The parts I scuffed with 600 are still looking good. I used the epoxy on my clutch and break res. and the levers. They are now in need of a "re-do" because the epoxy is coming off. I did my fork lowers with regular Rustoleum and they still look good. The handlebars were scuffed with 600 and painted with regular enamel and still looking good. Headlight same. Fender brackets didn't last a week (no scuff w/epoxy).
---
'05 Vulcan 1500 Bobber
'04 Vulcan 1500 Classic
Top Contributor
Join Date: Aug 2011
Location: Missouri
Year/Make/Model: 2014 Kawasaki Vulcan Vaquero ABS SE
Displacement/CC's: 1700
Color: Orange SE
Gender: Male
Posts: 7,594
As far as the right side cover, if you take the pipes off and tape/cover things pretty well, I think you could get away with painting it on the bike. Removing the part is always better, but, it can be a pain sometimes.

I, too, am in the chrome camp. It's often dirty because I like to ride! But that's okay. However, yours is done well and looks good!

You probably already know this, but, be careful getting fuel with that black speedometer bezel. Rattlecan paint (and really almost anything but certain grades of paint with special multi-part clear coats) doesn't resist gasoline so it'll eat that black right off if you splash any gas up on it. I saw a guy once who had gotten some pin striping done and some of it was near his filler cap, so he always grabbed a paper towel from one of the window washer things at the gas station and covered it before fueling. Not a bad idea!
---
"8 But God demonstrates his own love for us in this: While we were still sinners, Christ died for us."

Romans 5:8 (NIV)
2014 Kawasaki Vulcan 1700 Vaquero ABS SE
iPod Connector Kit, Kuryakyn Highway Pegs, Mustang Touring Seat, Marvella's Hitch, Kuryakyn Trailer Wiring Kit, Haul-Master Tag-a-Long Cargo Trailer


2011 Honda Shadow Aero 750 (Wife's)

Memphis shades quick-release windshield, OEM Solo Seat, Mustang Fender Bib, Chrome Solo Luggage Rack


Past: 2006 Vulcan 900 Classic LT
Junior Member
Join Date: Mar 2012
Location: colorado
Posts: 10
So this may be a dump question but what is T.S.P?
Also to paint the covers on the head, does the gas tank need to be removed?
Should high temp paint be used?
Senior Member
Join Date: May 2012
Location: Eugene Or.
Posts: 365
Quote:
So this may be a dump question but what is T.S.P?
Also to paint the covers on the head, does the gas tank need to be removed?
Should high temp paint be used?
TriSodium Phosphate.
I'm interested in answers about the head covers as well.
Senior Member
Join Date: Oct 2012
Location: Panama, Panama
Posts: 182
Top Contributor
Join Date: Jul 2012
Location: Near Florence, SC
Posts: 543
If the paint in an area that doesn't get stressed starts to peel, it's because of a lack of adhesion. If even a microscopic layer of wax or oil remains it will create a barrier between the old surface and new paint. It has to be absolutely squeaky clean. TSP is a good cleaner, as I kept a case for myself when I sold my business and "retired". It works well when cleaning exterior surfaces on the house before painting. I would use it after I degreased the surface with a solvent like lacquer thinner, denatured alcohol, etc that doesn't leave any film behind. Etching the surface with fine wet/dry sandpaper works well. Remember, squeaky clean and no oil, wax or film remaining.
I like chrome,thought about painting the chrome black then I remember i painted the chrome on an old yamaha,did a great job .....but after awhile I hated it besides i like blinding people with my chrome! but toeach is own.
Posting Rules

You may not post new threads

You may not post replies

You may not post attachments

You may not edit your posts

---

HTML code is Off

---