Member
Join Date: Oct 2012
Posts: 33
couple questions
---
Hello I am Mike
I have just bought a 2004 V2k and I love it so far.(never had a cruiser)
I do have a couple questions.
It has a windshield on it and it feels like it beats the crap out of me when riding it I don't think that as talk as I am its the right height. (6'4")
I am in the process of putting on 16" Kong bars and was wondering if I leave the windshield off the bolts that hold it on do not screw all the way back in.
My question is do those bolts do any thing besides hold the windshield like hold the fork cover on etc. or can I remove them.
I might look at adding a different windshield later but I like the wind so not anytime soon

Another question is will a Vaquero 1700 fairing fit on a 2004 v2k I might look into that in the future.
I am looking also for how to pull the gas tank off and swap out the throttle and clutch cables out anything I should look for while doing this part of the project.
Thanks Mike
I have an 04 also.
1) Those bolts on the side hold those chrome side panels on the bike. Gotta have them, but I'd order some stock ones from Kaw. Swing by a dealer, they may have some in stock, and if not, they can order them. They should not be very expensive. Make sure you have/get the big chrome washer thingy (and the rubber gormet, and the steel backing).
2) Because the 04's have the bug head light (called a "nacelle") it takes a special faring/wind shield.
3) Yea, I'd say whomever had it before you was probably not 6'4. That windshield is probably funneling the wind straight up your nose
4) Pulling the gas tank is actually very very easy. There are several threads here talking about, just do a search.
---
Yes, I'm a Chrome Whore.

2004 Vulcan 2000
Senior Member
Join Date: Oct 2010
Posts: 445
Mike, ditch the windshield. You being that tall. Windshield would need to be Big-Big-Big.
Na...ditch the idea.
Tank. Like Smedlin said. You need to look that up few things need to happen.
You got a manual ???
All the info is there.
If you don't. Send me an email through my profile
and I'll shoot you one.
Cables on throttle body...make sure to dab a lot of white lethium grease
on the ends ( both sides ). More the merrier.
[IMG]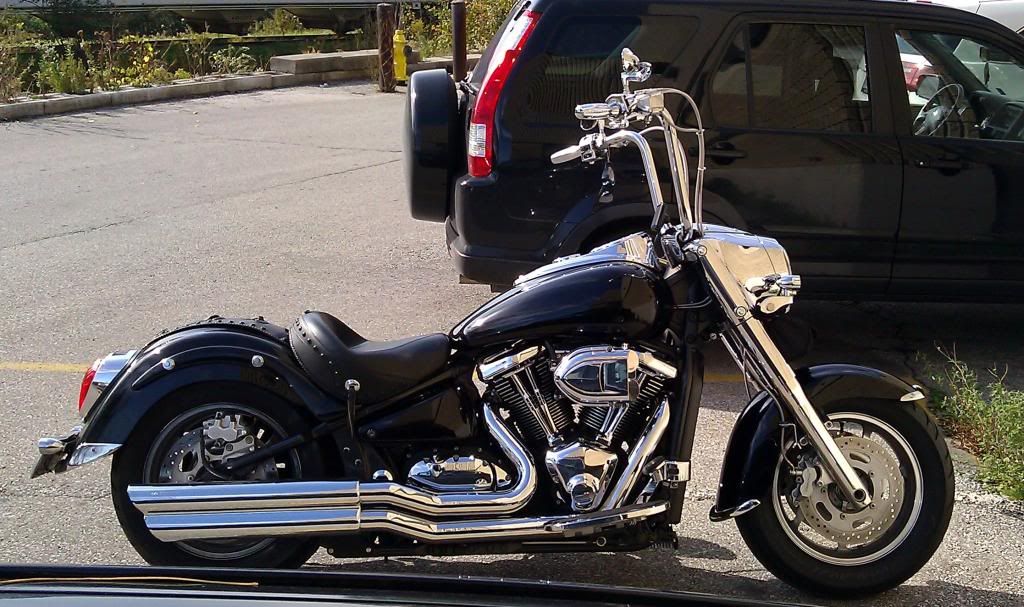 [/IMG]
I really like that chrome on black look Paul
---
Yes, I'm a Chrome Whore.

2004 Vulcan 2000
Member
Join Date: Oct 2012
Posts: 33
Ok the kongs are on and dam they are confy.
I ditched the windshield and felt good going down the highway yesterday.
thanks for all the replies I will get ahold of a local kawi shop probly tues for those bolts its like the dust bowl here anyways so can't ride today lol
A far as manual goes when I went to shop to get brake fluid he had an extra manual for my ride so I bought it from him.
Also ended up with a vacuum pump to bleed brakes with made that alot easier.

So far I have put 16" Kong bars
Steel throttle and brake lines
Freedom pipes on this beast and seems like everytime I add something I like it more and more
In the future I am looking at going darkside but still researching that.
Hard bags
Custom paint and maybe a fairing if I can find one I like
For now just enjoying it
Will try to get pics soon
Thanks again
Mike
---
Yes, I'm a Chrome Whore.

2004 Vulcan 2000
Windshield
---
Quote:
Hello I am Mike
I have just bought a 2004 V2k and I love it so far.(never had a cruiser)
I do have a couple questions.
It has a windshield on it and it feels like it beats the crap out of me when riding it I don't think that as talk as I am its the right height. (6'4")
I am in the process of putting on 16" Kong bars and was wondering if I leave the windshield off the bolts that hold it on do not screw all the way back in.
My question is do those bolts do any thing besides hold the windshield like hold the fork cover on etc. or can I remove them.
I might look at adding a different windshield later but I like the wind so not anytime soon

Another question is will a Vaquero 1700 fairing fit on a 2004 v2k I might look into that in the future.
I am looking also for how to pull the gas tank off and swap out the throttle and clutch cables out anything I should look for while doing this part of the project.
Thanks Mike
Hi allenmp
If you don't put you windshield back on and you like to sell it please let me know. I'm maybe interested in it.
Have fun
---
__[SIGPIC][/SIGPIC]_____________________________
Kawasaki Vulcan VN 2000 A2

VROG: #33284
ROG: #784
Member
Join Date: Oct 2012
Posts: 33
Ok still working on the.pics
Old German as far as the windshield goes it hasa blue tint in the bottom third and I am not site what they are worth. Do you by chance have the bolts I need to replace the ones to hold the windshield. if not I'm thinking if you will pay for the box and the shipping I would let it go for that. otherwise its just gonna take up room in my shop and be in the way. I will try to get pics of the bike and the windshield today
Posting Rules

You may not post new threads

You may not post replies

You may not post attachments

You may not edit your posts

---

HTML code is Off

---