I had bad cupping on my front stock tire like that too. I have a Metz 880 on there now and it's cupped a little after 5000ish miles, but nothing like the stock tire did.
---
2006 V2K Limited


To view links or images in signatures your post count must be 1 or greater. You currently have 0 posts.

Mine is cupped the same way. Never let the pressure drop below 37lbs.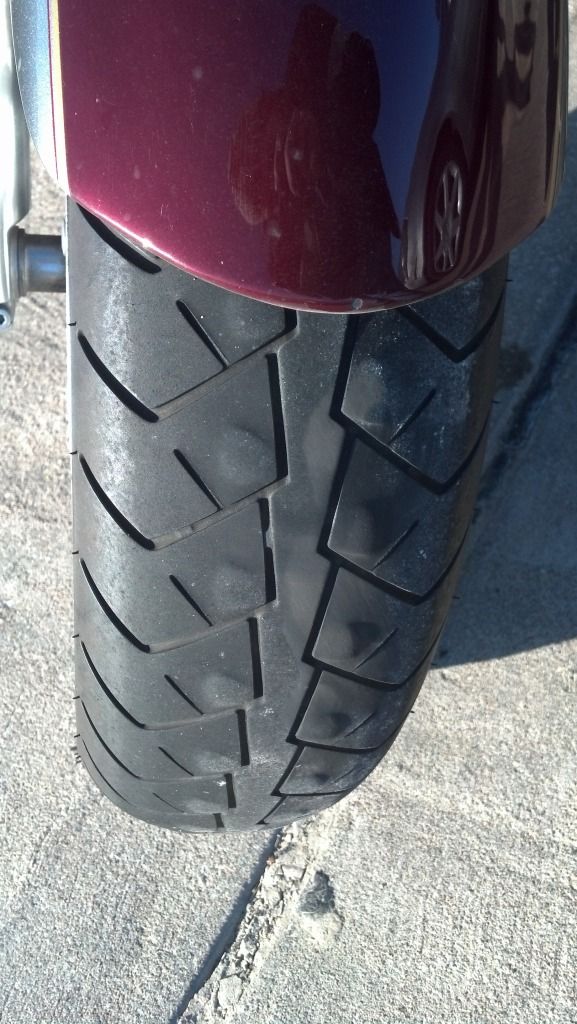 ---
1996 Harley Davidson FXDS with a lot of stuff. Yes, it's fast, yes it will pull the front tire in 1-3rd. No it's not a stock evo.
2011 Vulcan 1700 Vaquero
Senior Member
Join Date: Nov 2009
Location: Grafton NSW Australia
Posts: 159
I had the same issue with the stock tires but it did not affect the bike at all. I slipped on a set of Avon Venoms and have not looked back and am on my second set now. They hang on like baby sh@t to a blanket and wear well. I did have a wobble in my front end at low speeds but this was due to tire pressures. Once corrected no more wobble and she runs sweet as a nut.

Cheers and Beers.

Bob
Same here, I had it happen to me with that POS oem front tire. The Battleaxe is garbage, get rid of it. You may end up loosing traction in the rain also. Im on my third set since the stock tires. Running the Bridgestone Exedra max front and back and they are much better. No cupping, little road noise and good handeling. 5K on new tires and holding up great. Little to no wear in front and about 40 to 50% on the rear and I ride them pretty hard.
Senior Member
Join Date: Oct 2010
Posts: 445
Quote:
Is this a broken belt ?
You can say that. Still plenty of rubber to take road contact.
But if you ride long enough those spots will get worn out quick and if you have a bad luck day and go over a sharp object at just the right angle
Bye-Bye...Has anyone every experienced a crash from something like this.
Who knows... I've never read any story of the sort. But doesn't mean it can't happen.
No, you can't say that, because it's not broken belts.
I just bought a bike jack from a guy here locally, he gave me a set of Bridge stone Exedras, 130/16 ,150/16 tube types, can I use the 150 on the front of my bike, its says rear tire only?
Senior Member
Join Date: Oct 2010
Posts: 445
Quote:
No, you can't say that, because it's not broken belts.
Your right. But the belt strands have lost their formation bond.
Either way its time to say bye-bye to it.
No, they haven't.

The tire is not broken, per se, it's some odd wear characteristic of that particular tire on this particular bike.

The tire is not unsafe it's just noisy.
---
Last edited by whoaru99; 11-09-2012 at

06:54 PM

.
Posting Rules

You may not post new threads

You may not post replies

You may not post attachments

You may not edit your posts

---

HTML code is Off

---