Swing arm bag
---
I did a search on the forum and didn't see any posts of a similar mod so I thought I'd share it.
I fabbed up this swing arm bag a while back. I generally just keep gloves and glasses in it. It's sturdy but I prefer to keep only very lightweight items in it. This particular bag's size and position makes it somewhat difficult to fully open the top with the passenger foot peg in place. I never ride with a passenger so I've removed the pegs.
With the peg on, I can open the top of the bag about halfway. It's doable with the foot peg in place but I would have to get down on one knee and sort of blindly reach in and out. Also, with the foot peg assembly in place, swing arm movement brings the bag into fairly close proximity to the bottom of the foot peg when springs are compressed. I imagine if I had a passenger and hit a big bump, this particular bag's dimensions may cause it to contact the bottom of the passenger's show. So, I prefer the current setup. I'll adjust in the future if the future includes a passenger.
Although I generally avoid riding in the rain, I did add rain defectors to the open parts, added drain holes to the bottom, applied rust-prevention methods to all metal hardware, including buttons/buckles, soaked the leather with mink oil, and keep a plastic bag inside to protect the contents.
Anyhow, here are some pics.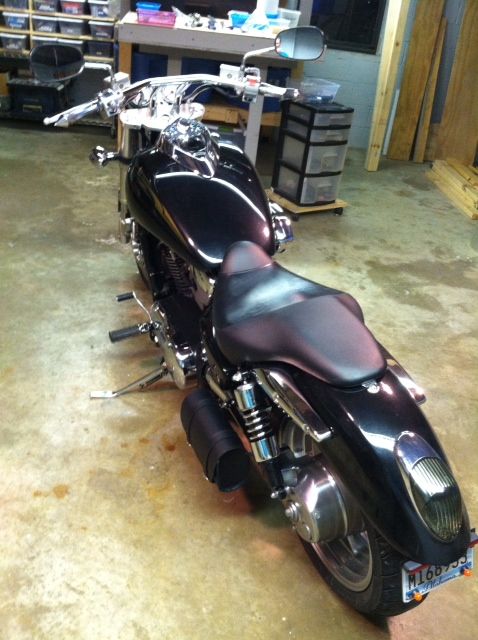 Senior Member
Join Date: Jul 2012
Posts: 240
Nice, and easily accessible...
---
But I was treated mercifully because I didn't know what I was doing—didn't know Who I was doing it against! Grace mixed with faith and love poured over me and into me. And all because of Jesus. Here's a word you can take to heart and depend on: Jesus Christ came into the world to save sinners. I'm proof—Public Sinner Number One—of someone who could never have made it apart from sheer mercy.
1Tim 1, MESS Bible
2006 Vulcan900 Classic
Junior Member
Join Date: Dec 2012
Posts: 29
nice bike , nice pictures but you could of done a little more of a closeup so we can seethe mod a little better. I may think of doing it myself if i can see what you did. Also, i'm curious about the rain defectors as i have a cobra air filter and was wondering how to cover it up in event of rain
Will do when I get back home from mom's house in Huntsville later today.
Here are some pics and some explanation on what I did. I used the tool bag you get from Wal-Mart for like $19.95. It's about the same quality of some bags I've seen in the $30-$35 range at bike shops. I utilized the two threaded weld bungs on the swing arm that are used to hold the cover on the swing arm. These bungs are pretty solid considering their simple purpose.
To make this I used some 1/8" x 1 1/2" bar stock, 1/8" x 1/2" aluminum bar stock, 1/8" rivets, fender washers, 1/2" spacers (I used nuts slightly larger than the bolt threads), and bolts longer than those holding the cover on.
I cut the steel bar stock to the length of the bag. I measured the distance between the center of the bungs and drilled corresponding holes in both the steel bar stock and the back of the tool bag. Then I cut maybe a 6" piece of aluminum stock, placed it on the inside of the bag and drilled holes for rivets through the steel bar, tool bag and aluminum. Riveting these together essentially makes it all a single unit by sandwiching the leather between the metal bars. Then I put fender washers on the bolts, ran them through the tool bag/steel bar, added the 1/2" spacers, then a little dab of blue Loctite and bolted it all up. The purpose of the spacers is to ensure clearance of the top left corner of the bag when the rear suspension is fully compressed. They bring my bag out just enough to ensure clearance. Were I to use a bag with different dimensions I might need 1/4" spacers or maybe 3/4" spacers. It all depends.
Here are some pics: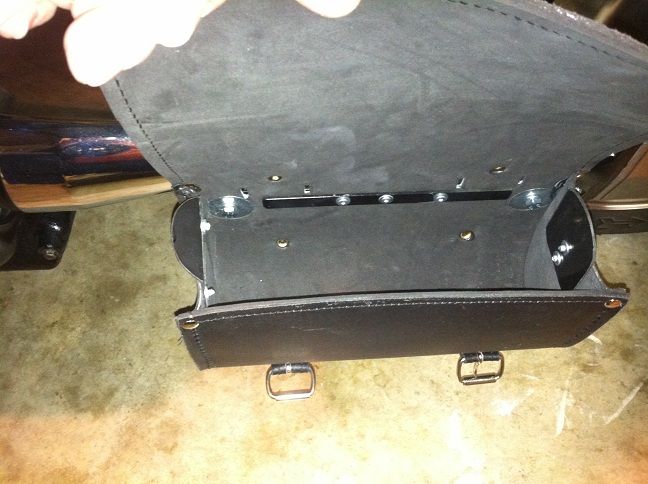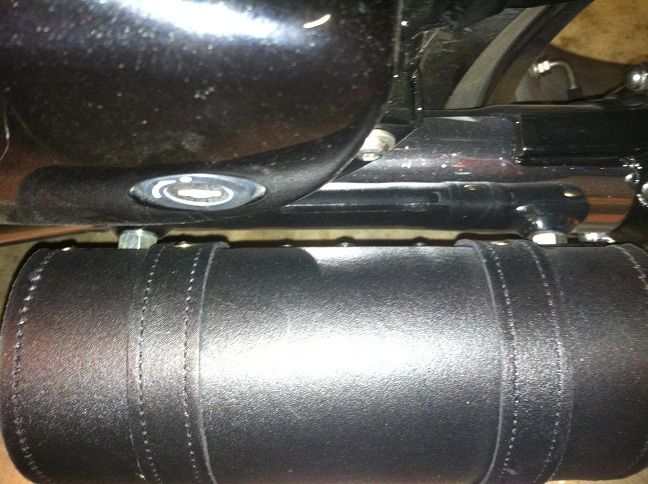 With the side cover off for better visual: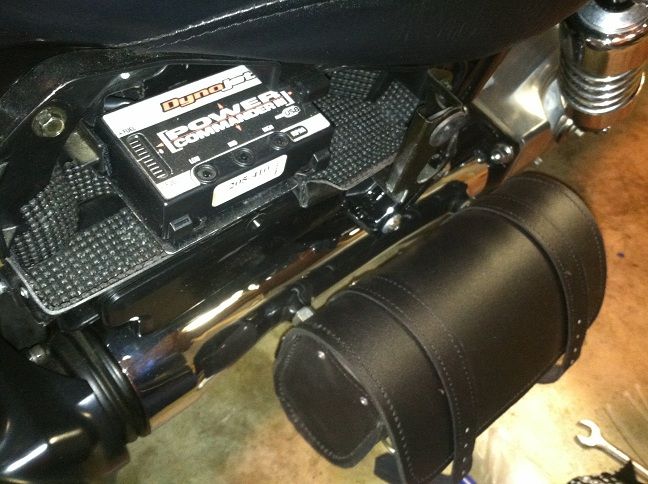 looks great, think i'll try the same thing , thx for the pics
I don't think it would work with the vulcans without shaft drive. Not sure cause I don't have one to examine.
Posting Rules

You may not post new threads

You may not post replies

You may not post attachments

You may not edit your posts

---

HTML code is Off

---